As much as we've tried to reflect all possible scenarios within Bloobirds and its contact channels, the reality is that sales can happen everywhere. In order to keep your activity tracking accurate, we have recently introduced our "Quick activity log" button, which allows you to log any activity that happens outside of our platform or our Chrome extension.
Which activities can I log?
You can log absolutely anything as far as it's been created as a Custom Task by the admin of your Bloobirds account. These are the activities that are available by default: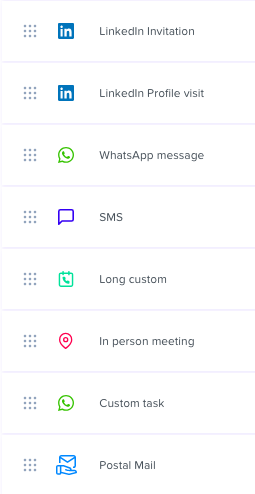 How can I log activities?
Only for Chrome extension users: from the bubble
If you're on the profile of a contact on Salesforce or LinkedIn, this is the icon you need to click in order to log an activity quickly: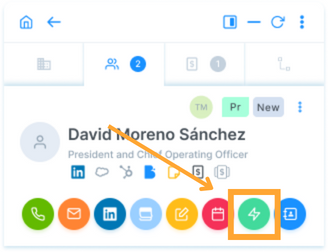 And now you can select the activity you want to log.
Only for web app users: From a lead/company profile
If you're on the profile page of a lead or company at Bloobirds, this is what you will see: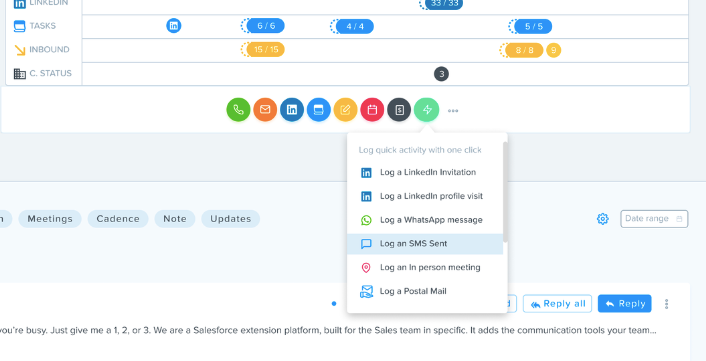 Click on the icon and then a drop-down menu will appear. Select the activity you want to log.
Where can I see all my manually logged activities?
Exactly where you'll find all the other activities:
On the app:
Go to the company or lead's profile and scroll down to the Activity section.
On the bubble:
Find Activities at the bottom of the bubble: