In this section, you will find all the tasks related to leads and companies that are currently in nurturing stage. To put it simply, while your Tasks are the main course of your day, Nurturing would be more of a side dish. In this article, we break down everything that you can find in this tab and how to use it to your advantage.
What can I find in the Nurturing tab?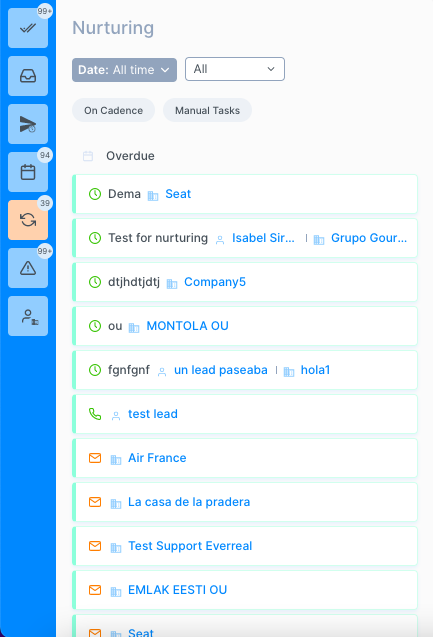 You can find here three different sections:
Filters:
Quick filters:
Tasks (ordered by due date)
What can I do from this tab?
Whenever you hover your pointer over any of the tasks, you can visit the profile on LinkedIn/Salesforce, reschedule, and mark it as done.

However, the Nurturing tab is more powerful in combination with our bubble.
If you click on any task, in the bubble you can:
See all the information related to this lead or company
Update status
Use all our contact tools
And everything else that Bloobirds has to offer
Nurturing leads and companies is essential to move them to further sales stages, so always try to devote some time to it!