Thanks to the left bar, you will always have your Inbox available whenever you are working on Salesforce and LinkedIn. The Bloobirds Inbox is more encompassing than other inboxes: it includes emails, calls, and LinkedIn messages. And it helps you to stay focused: only emails, calls, and LinkedIn messages from your pipeline will show here, keeping unwanted distractions such as spam emails or newsletters away.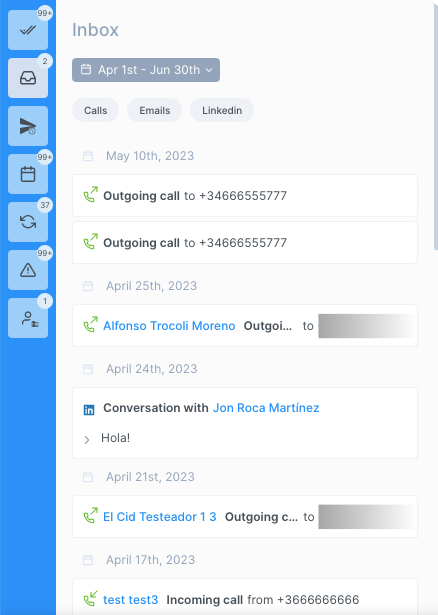 How can I find the different incoming communications?
You can filter by:
How can I best take advantage of the Inbox?
With the Bloobirds Inbox on the left bar, you will never need to leave the window you are in. Here are all things that you can do directly from here:
Calls:
Emails:

Mark as read
Reply all
Reply
Whenever you reply to an email, you will do it directly from the same window using our powerful Smart Email Editor.
Our Chrome extension adds a button to the LinkedIn messaging modal. Using this button, you will have all your templates available to reply to messages quickly.