On top of the left bar, you'll find the Tasks button. This category is at the heart of what any salesperson needs to have an efficient working day: having all tasks for the day available in one place. In this article, we break down everything you'll find in this category and how to best use it to your advantage. The ultimate goal is to bring down your tasks to zero and there are two ways to achieve it: by completing or rescheduling them.
What can I find in the Tasks tab?
We can divide the main view of the Tasks tab into three sections: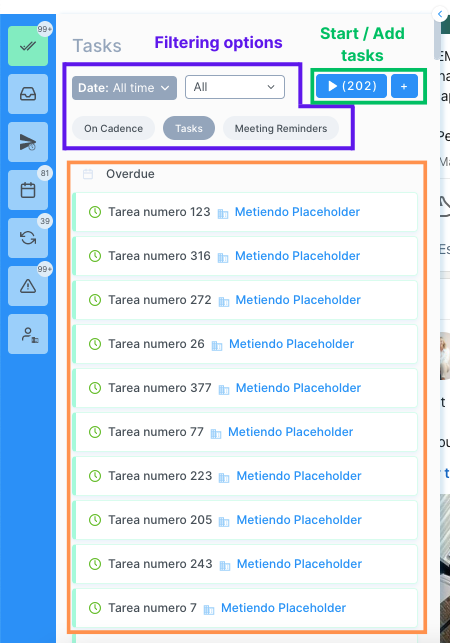 1. Filtering options:
Date
Sales stage
Quick filters: On Cadence, Tasks, Meeting Reminders
2. Start / Add tasks
3. Tasks
In the following sections, we'll show you how to make the best of this tab.
What's the best way to use Tasks?
Start tasks (aka "the play button") is a tool designed for you to focus on your daily tasks without distractions. Once you click on this button, our bubble will show the first task on your list. But that's not all, surrounding this task you can see all the context and contact details from your lead or company. Being able to access all this information ensures that you don't have to switch platforms and helps you to stay focused on your mission. Every time you mark a task as done, you'll see automatically the next task. If you'd rather skip a task, you can do it by clicking here: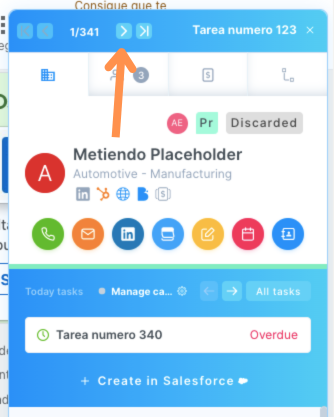 Can I add tasks directly from here?
Sure you can! You just have to click on the + button right next to Start tasks and this modal will slide out of the Tasks tab: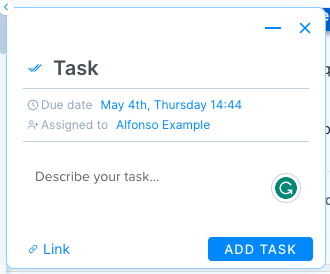 Once you've filled in all the information, simply click on ADD TASK and you're ready to go.
What should I do with my overdue tasks?
You can manage your overdue tasks directly from this tab, these are the options that you will see once you hover your mouse over any of them:

Edit
See profile on LinkedIn/Salesforce
Reschedule
Mark as done
We highly recommend you manage your overdue tasks actively.