So you just crafted a message and you have the feeling that you'll be able to reuse it in the future? We got your back. With templates, you will be able to reuse email content so that you can communicate with companies and leads in a much more efficient manner. Here's how it works:
From the Smart Email Editor
Once you have created the message, you can see at the bottom the SAVE TEMPLATE button. Click it and, on the right side of the screen, you will now see this: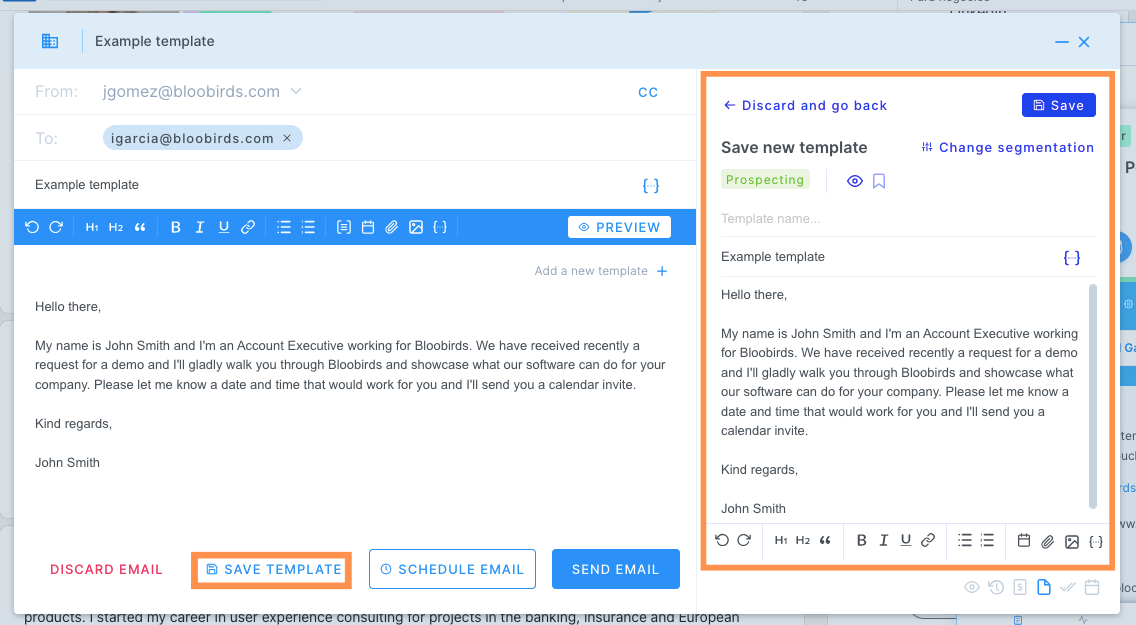 Here, you will have to name your template and you'll also have different options for customization and segmentation by clicking on Change segmentation:
Customization
Your template can include:
Variables: Both in the subject and in the body, Bloobirds allows you to add variables that will adapt to the recipient based on the information hosted in your database.
Formatting: Bold letters, italics, underlined, different font sizes, links... Whatever you might think of, it is supported by Bloobirds and your templates will always look like how you created them.
Media: Embedded and attached files are supported.
Segmentation
It is highly recommended to include all this information for each template, which will help you to always find the exact template you need. The segmentation fields available are:
Stage
Choose among:
Prospect stage
Sales stage
Prospect and sales stage
Options
You can select whether you want your template to be:
Visible for all team members
Official Playbook Template
Categorization
You can associate your template with specific:
Target Markets
Buyer Personas
Cadences
ICPs
Account Executives
The next section that you will see looks like this:

What you can see here is:
Stage
Is this template visible?
Is this template editable?
Is this template a battle card?
The next section looks like this:

It contains information about who created this template and when, and also when was it modified the last time and by whom.
From the bubble
At the bottom right of the bubble, select Playbook. From there, you can select for each template Edit, Open, Insert, or Use. If you select Edit, this is the window that will pop up: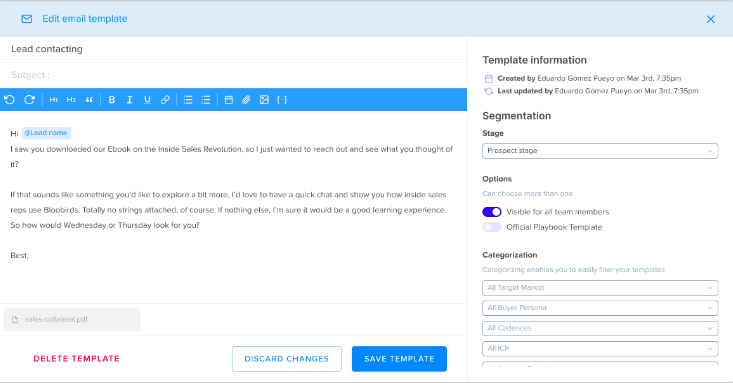 From this window, you can proceed in the same way as we've shown you before. Once you're done, you can:
Delete template

Discard changes: Keep the template as it was before the changes.
Save template