Whenever you want to send an email, this is the window that will pop up. At the bottom right, you have the different sections of our Smart Email Editor and, within those all the great functionalities that will help you to have all the information you need to prospect at a single glance: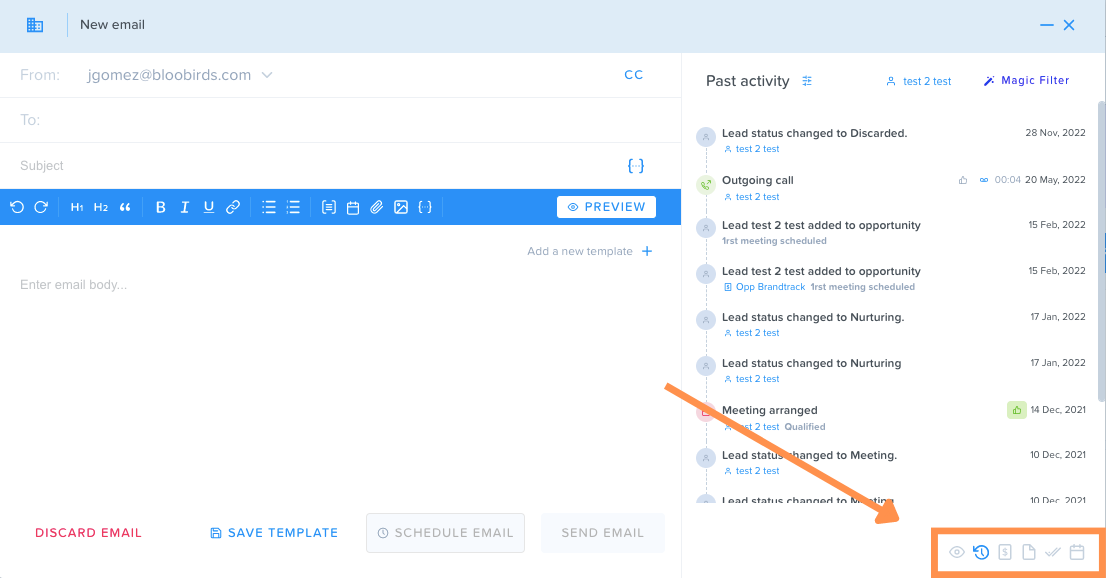 These icons represent Preview, Past activity, Similar Won Deals, Templates, Tasks, and Calendar.
In this article, we'll explain to you in detail every aspect of the Smart Email Editor so that you can use this tool to its maximum potential.
What are those colors in the recipients of the email?
Here are the four colors that you might see whenever you write email addresses in the recipients' field: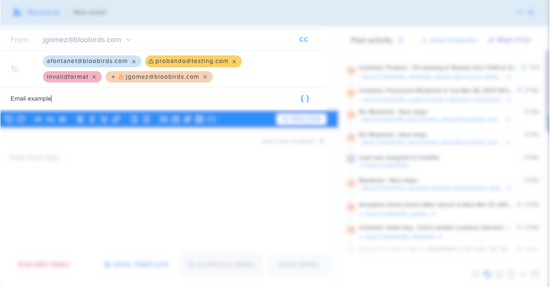 And this is what they represent:
Blue: an existing contact.
Yellow: a contact outside of your company but already present in your agenda.
Pink: Non-valid contact.
Salmon: a contact within the same company but who hasn't been added yet as a lead in Bloobirds.
If you click on the "+" on that salmon contact, Bloobirds will show you on the right side a form where you'll be able to add this new lead to your agenda.
Past activity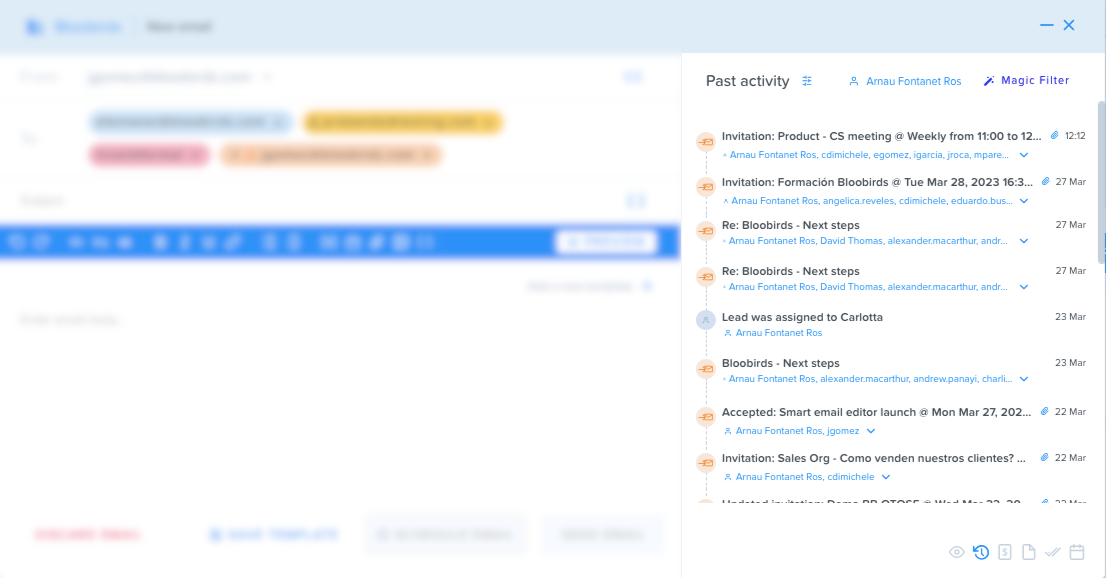 On the right side of the screen, you will automatically see all the previous activities attached to this contact. Here you can also find filtering tools and our brand new Magic Filter, which will help you to visualize at a glance the most relevant activity regarding this lead: meetings, inbound emails, calls, and other highly relevant activities.
Similar Won Deals
The next feature is the Similar Won Deals (the one with the $ icon), a tool that will allow you to see similar closed deals with other leads or companies. Use this information to your advantage while prospecting.
Templates & Snippets
Click on the next icon and you'll see this side menu: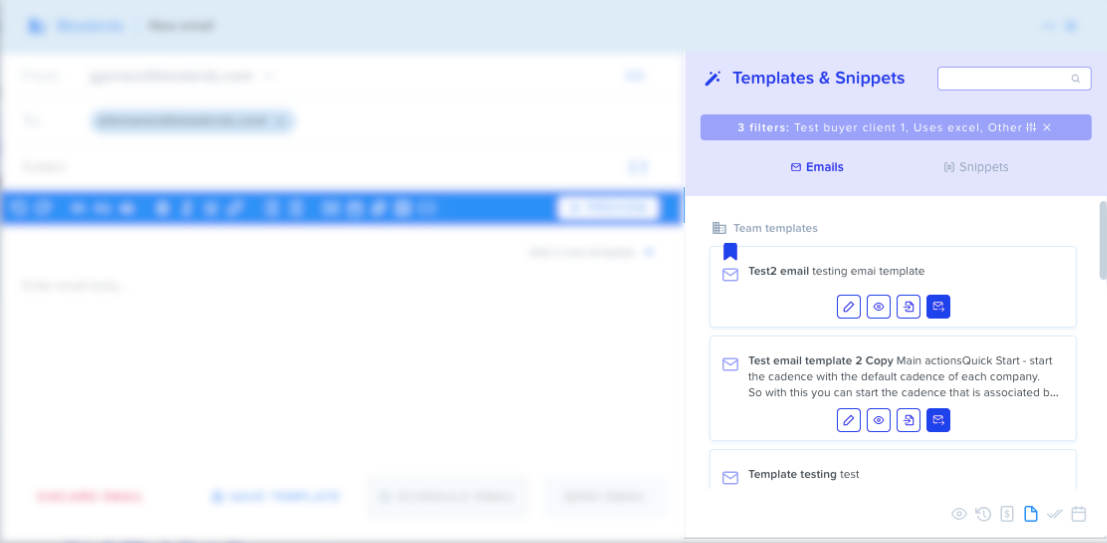 Templates
With the icons that you see on each template, you'll be able to:
Edit
Open
Insert (use this whenever you want to use more than one template in a single message)
Use
💡 Pro tip: Being organized pays! If you keep your templates well categorized, the filters that you can select above will do wonders for your productivity.
Snippets
Snippets are a lightning-fast way to insert content inside your email. From this view, you can:
Edit snippets: This button will open a new window where you can edit the selected snippet.
Open snippets.
Insert snippets (same as you would do using "/" and the shortcut of the snippet on the email).
💡 Pro tip: Did you know that you can create your snippets as you go? On the email body, select the piece of text you'd like to reuse in the future and click on the floppy disk icon.
Tasks
In the Tasks section (✓✓), you can create new tasks for yourself or other colleagues on the go. The settings are:
Due Date
Assigned To
Object
Calendar
Check when is the best time to schedule a meeting with a contact. From this section, you can also:
Change timezone
Manage calendar