What is it?
Here you can configure the settings for the Chrome extension. You can edit the information visible in the plug-in and manage its actions.
How does it work?
To easily manage it, you need to click on your user name. Then, click on Account Settings.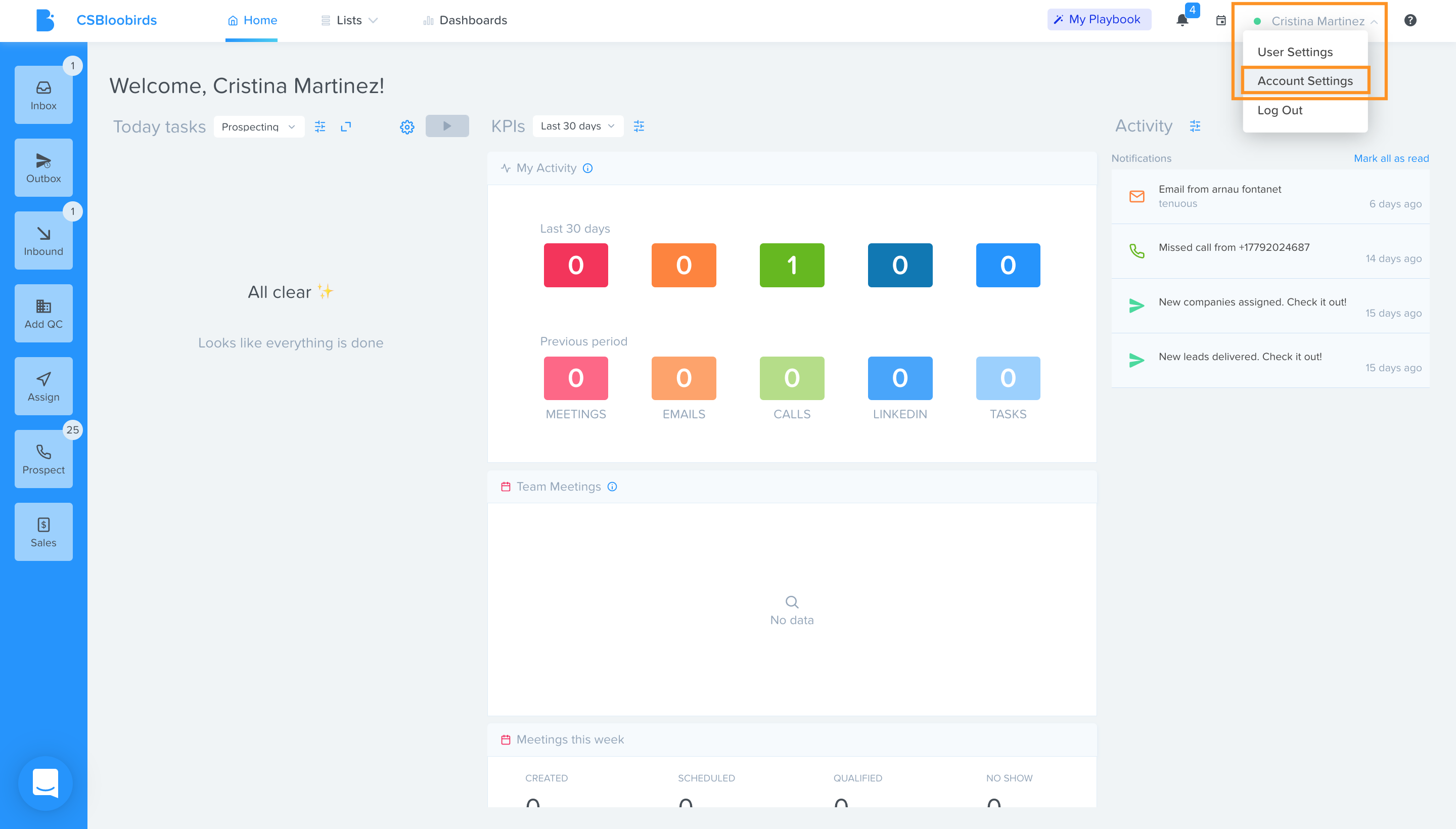 Go to preferences, specifically to Chrome Extension.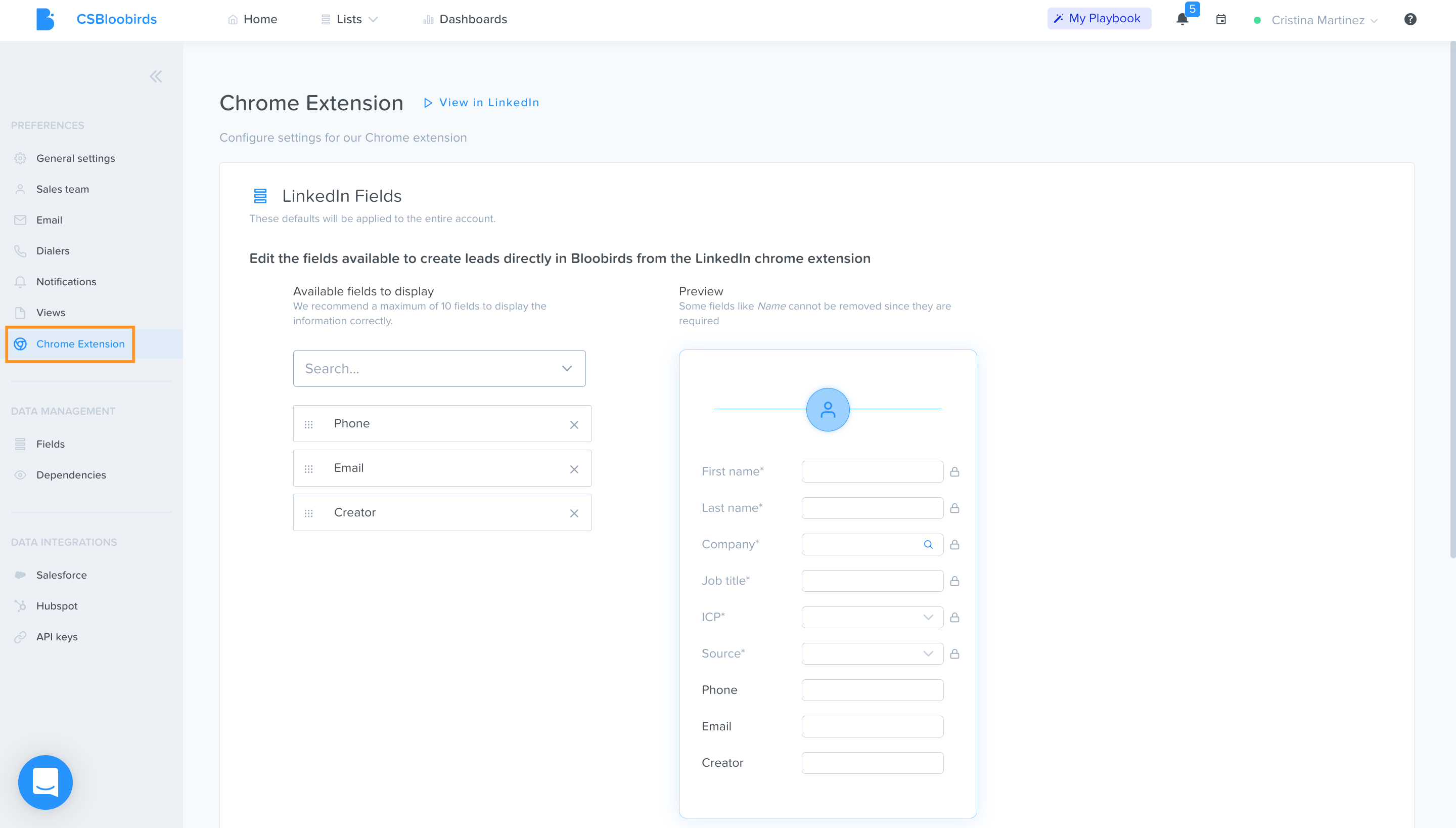 First of all, you'll find the LinkedIn Fields settings. This means you can edit the fields available to create leads directly in Bloobirds from the LinkedIn chrome extension. Remember that everything you set here, will be applied to the entire account.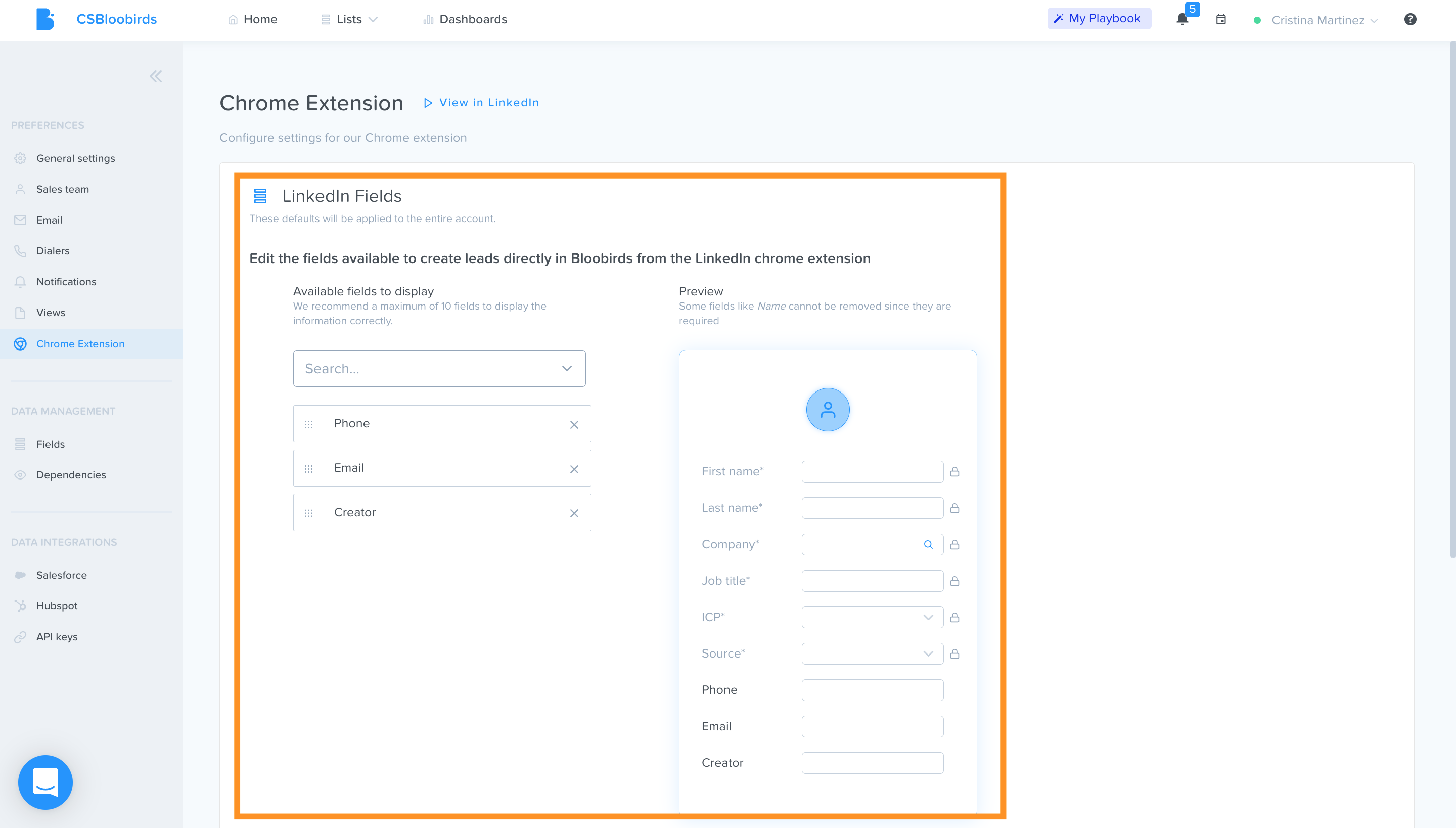 As we mentioned in the views tab, here you'll find two parts:
- Available fields to display: All the fields you've added because you want to see them in the plug-in. You can click on the picklist and choose as many as you want. We recommend a maximum of 10 fields to display the information correctly. Here you can also delete those fields you don't want to see anymore.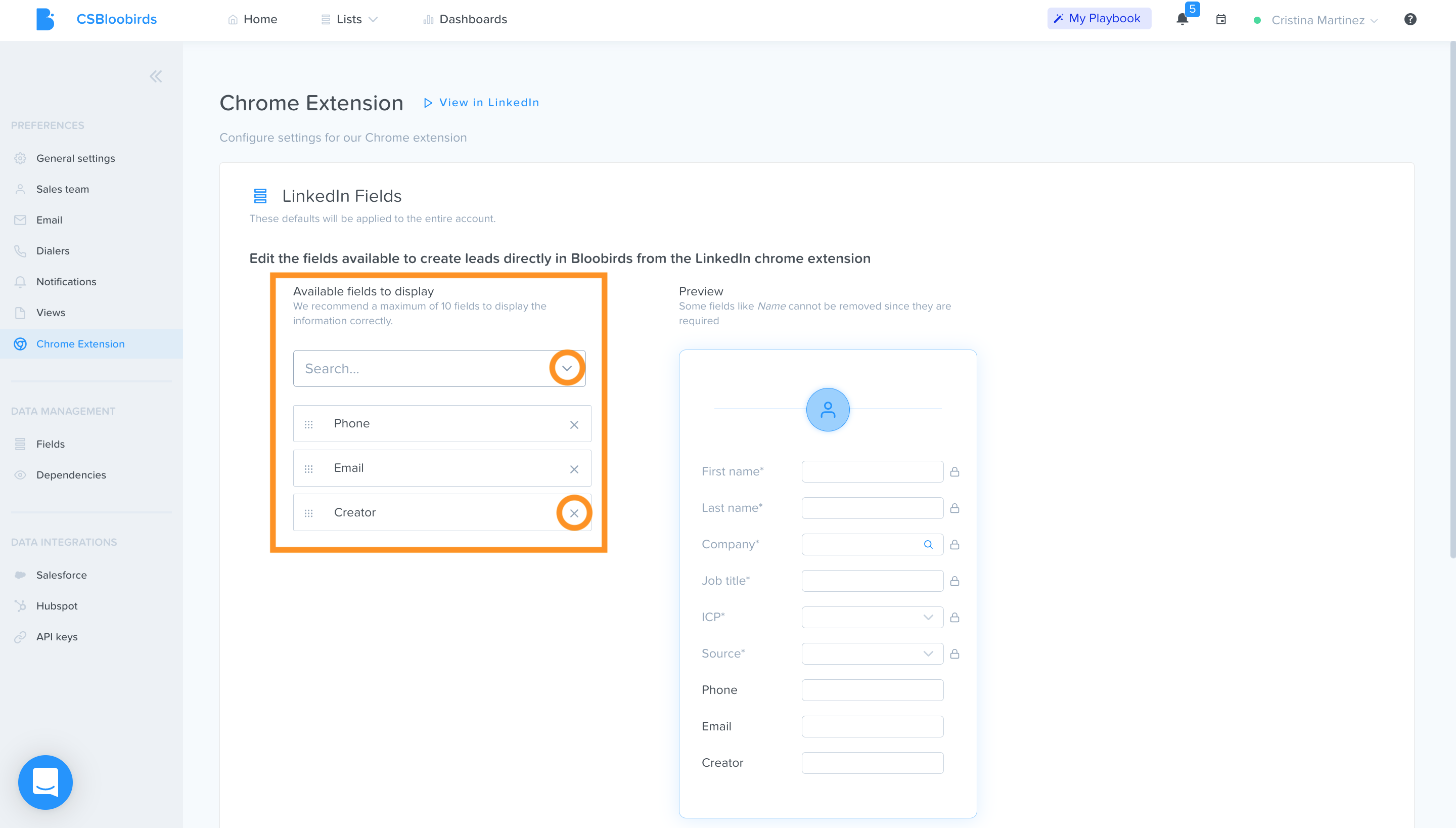 - Preview: How you see the fields you've added to be displayed. Some fields like Name cannot be removed since they are required.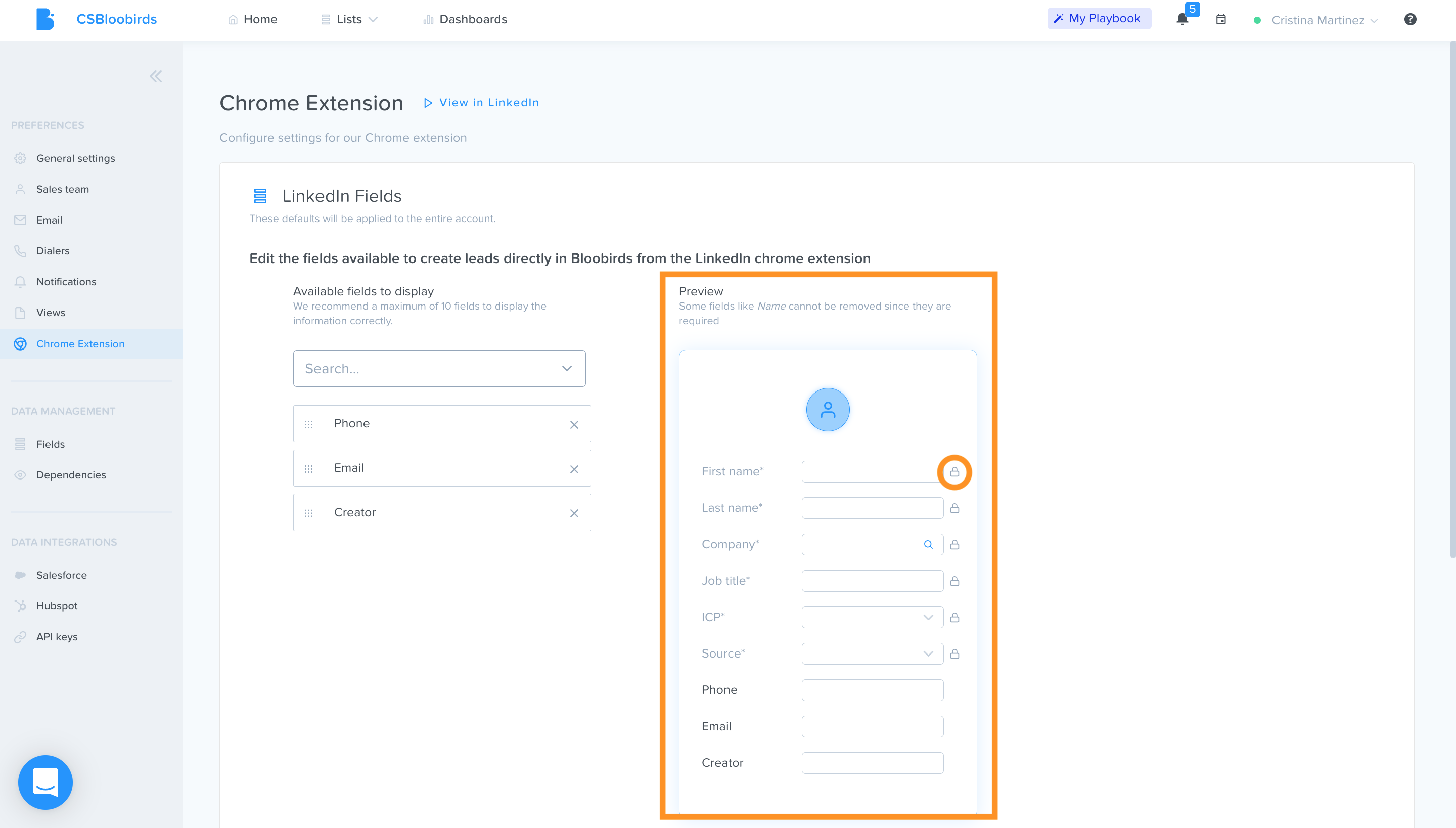 Then, Creating Companies. You can mark this option in case you also want to create the company when it doesn't exist in Bloobirds.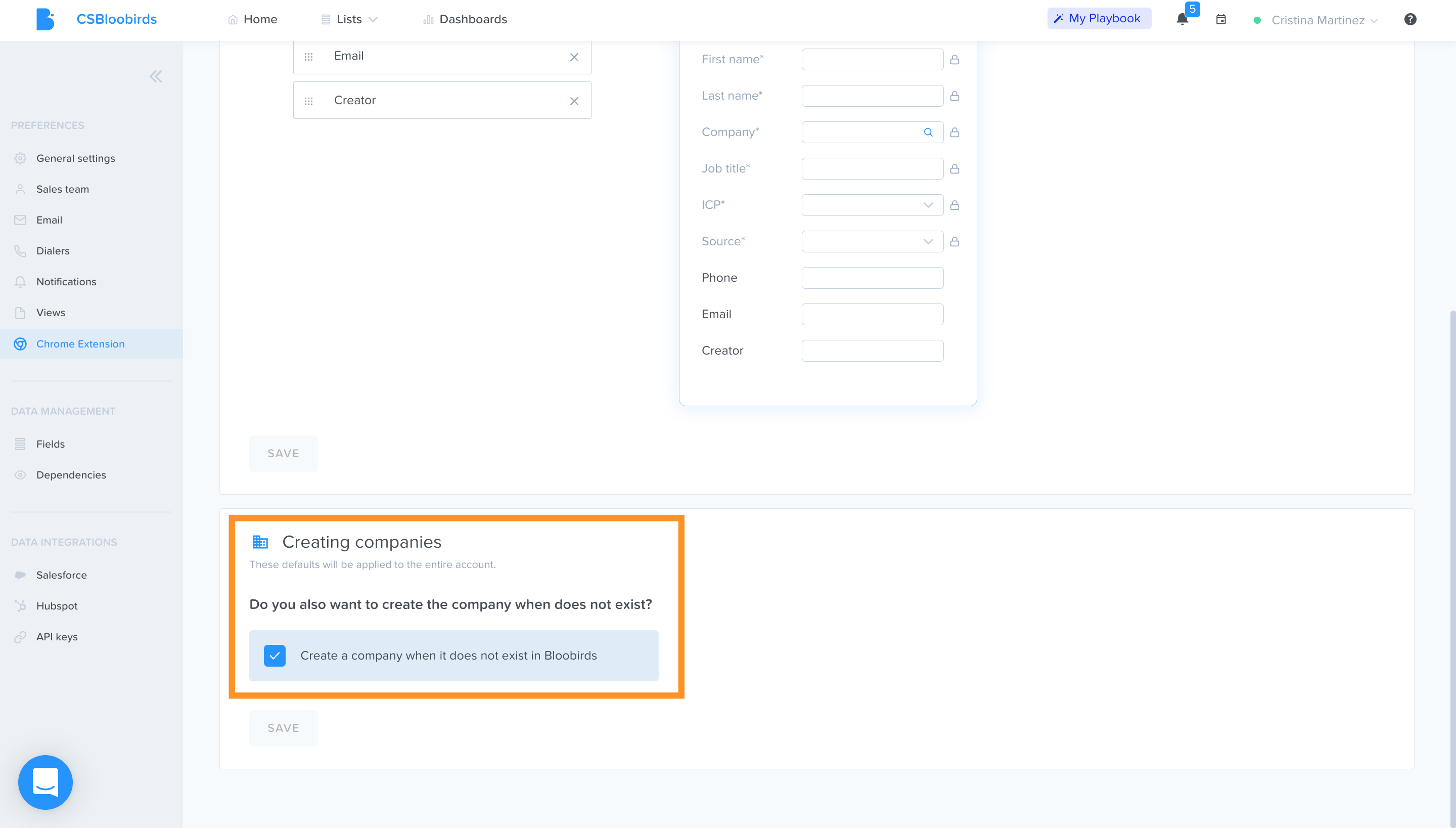 Always remember to SAVE.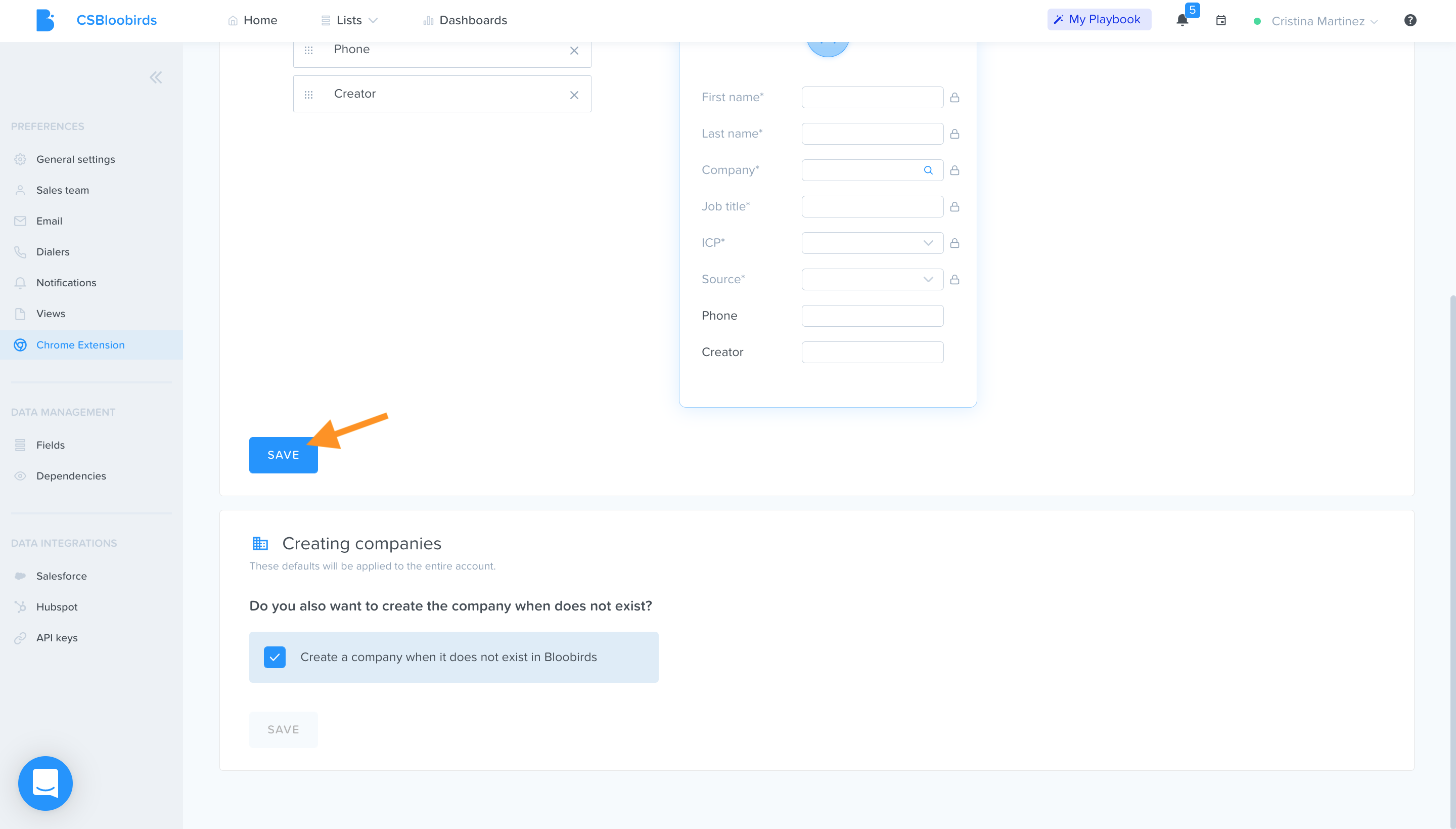 Capture leads/companies on LinkedIn
While you're navigating through the LinkedIn web, after installing the plug-in you'll see it on the bottom right of the screen.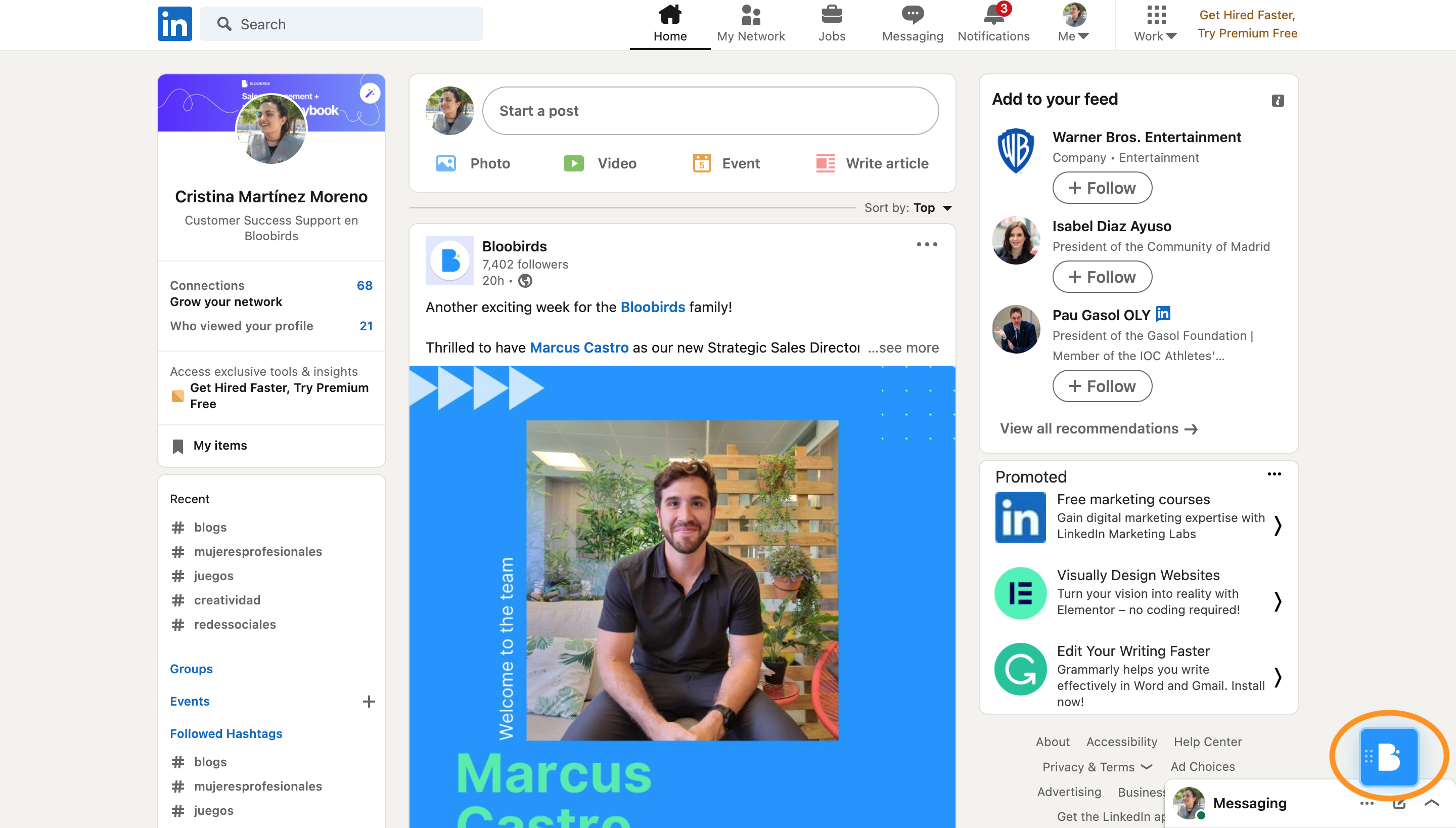 To start using it, first, you need to log in to your Bloobirds account. Write your email, the password and accept the terms and conditions. Click on LOG IN.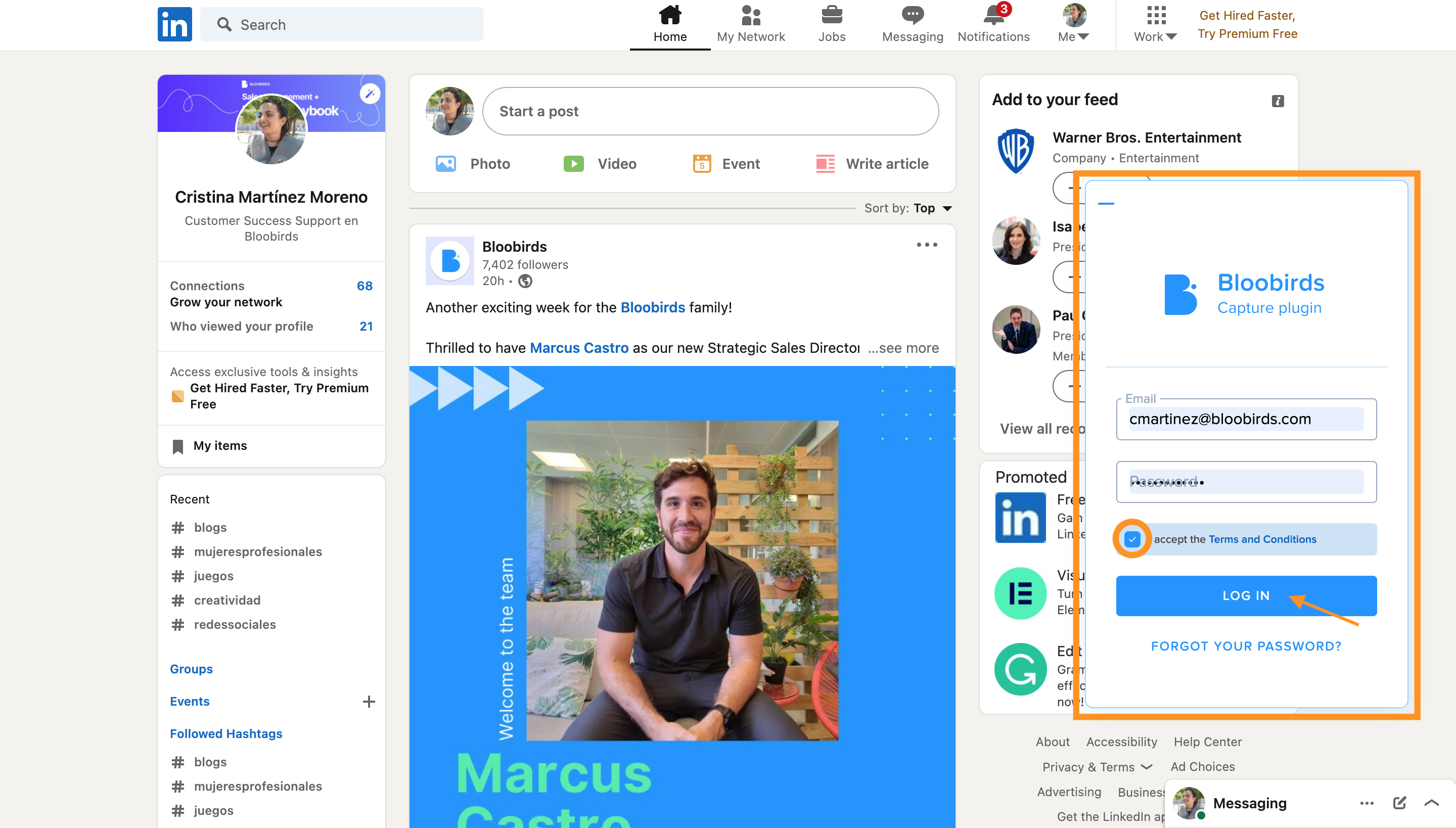 Before capturing a lead or a company, let's see that you can:
- Minimise the plug-in.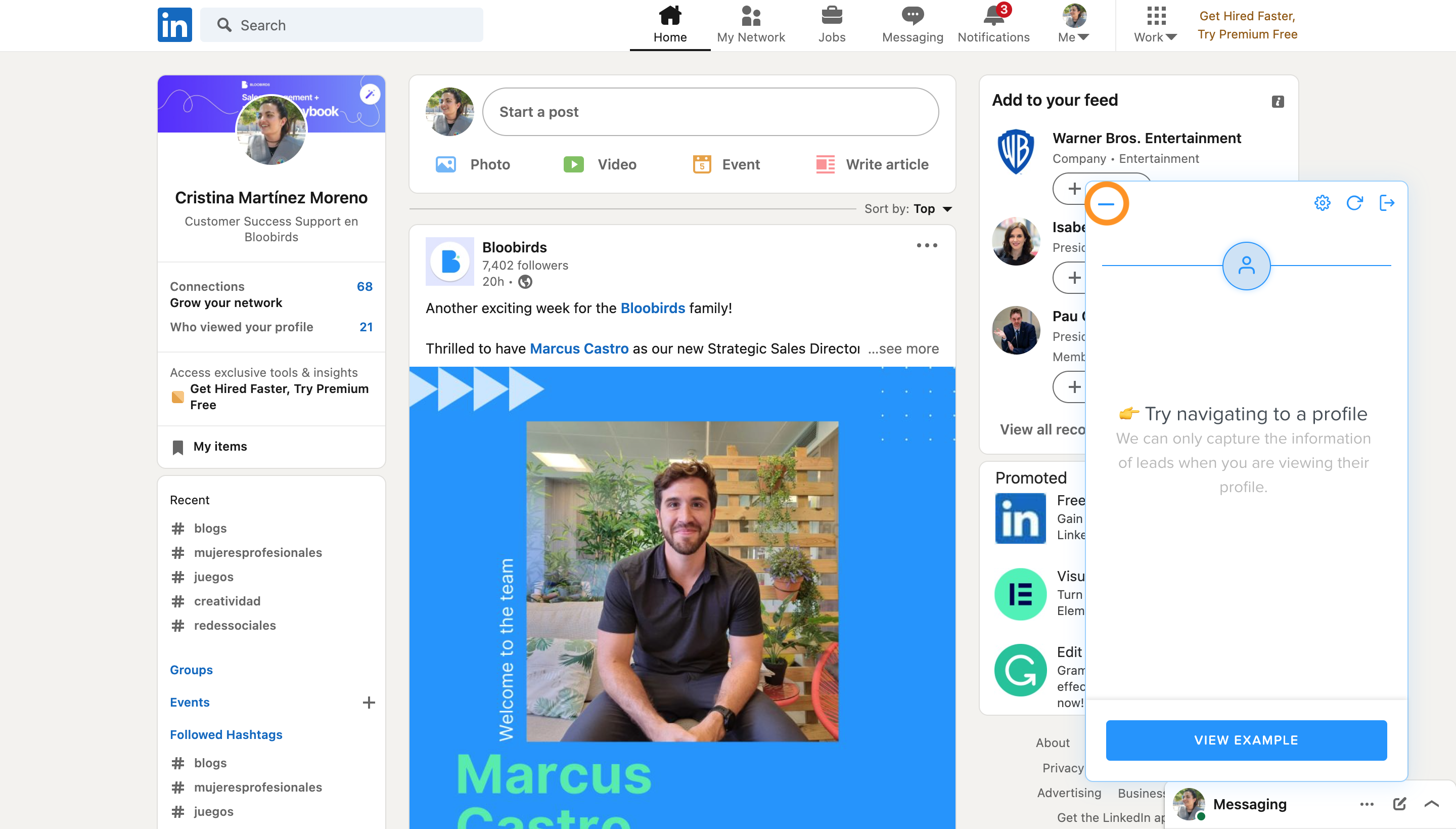 - Move it across the screen and put it wherever you consider it's more comfortable for your work. Click on the dots and while holding them, move it.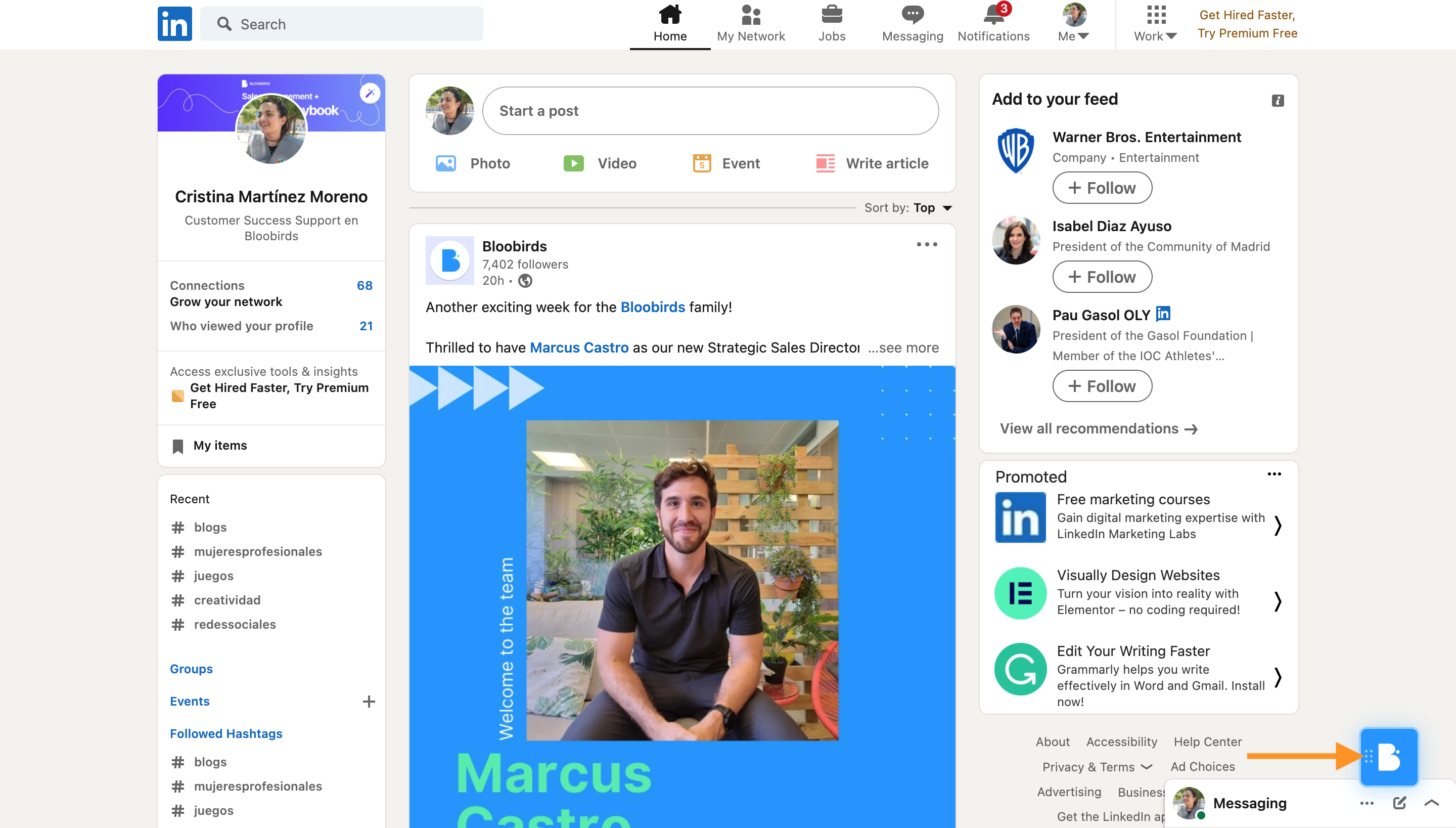 - Manage the settings. If you check these options, new leads will be assigned to you. Uncheck the option to set them as "Unassigned".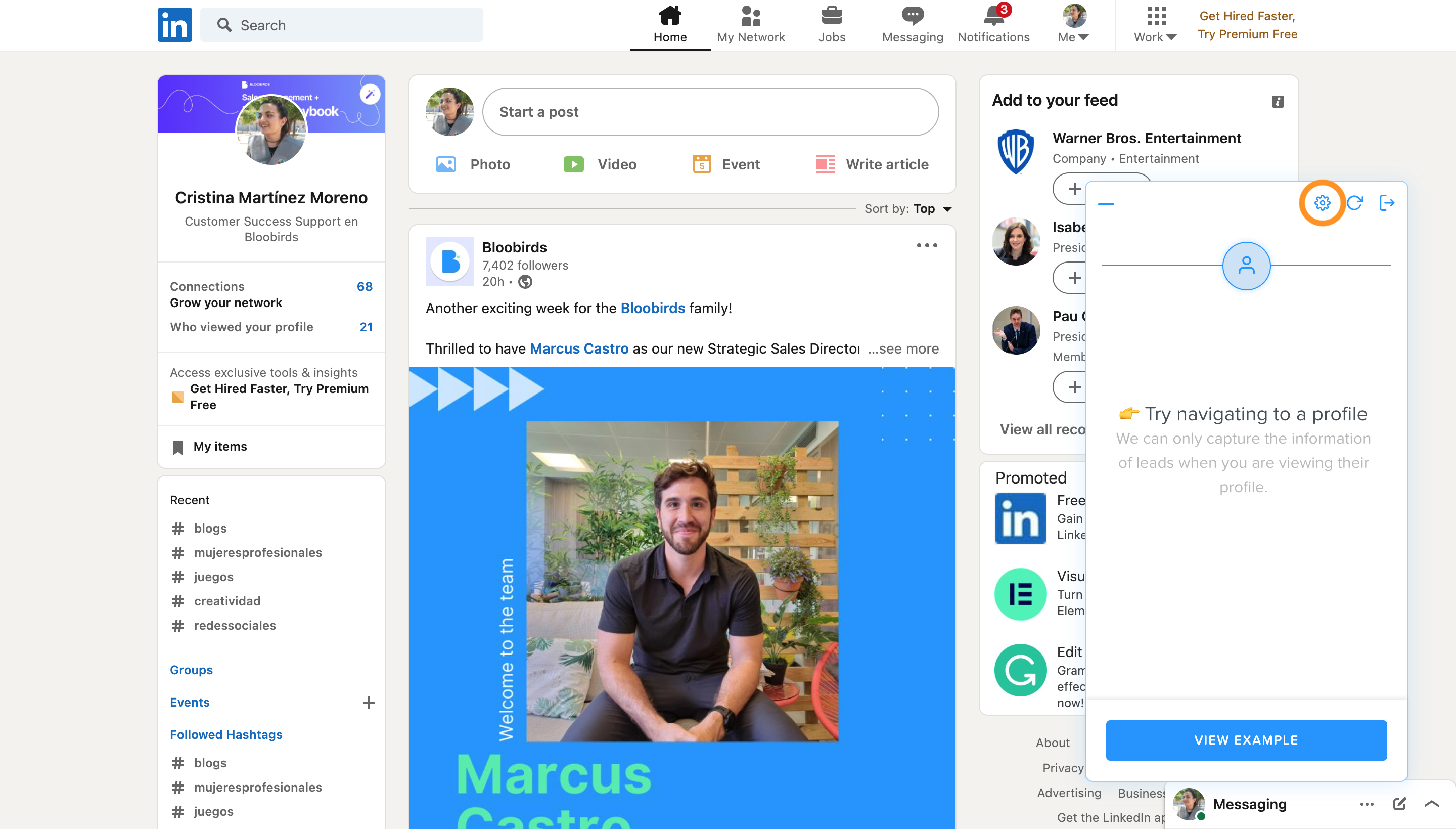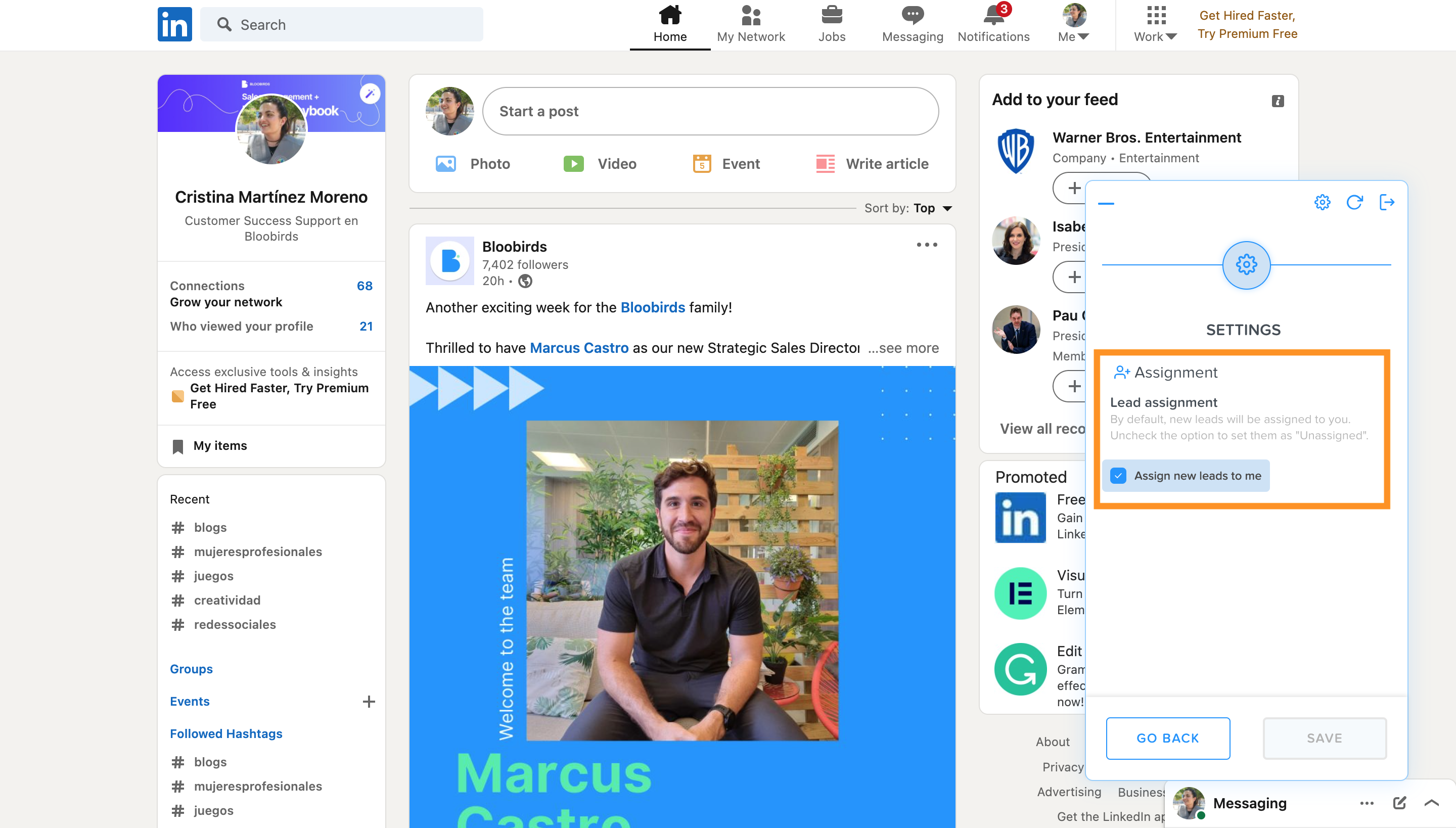 - Refresh.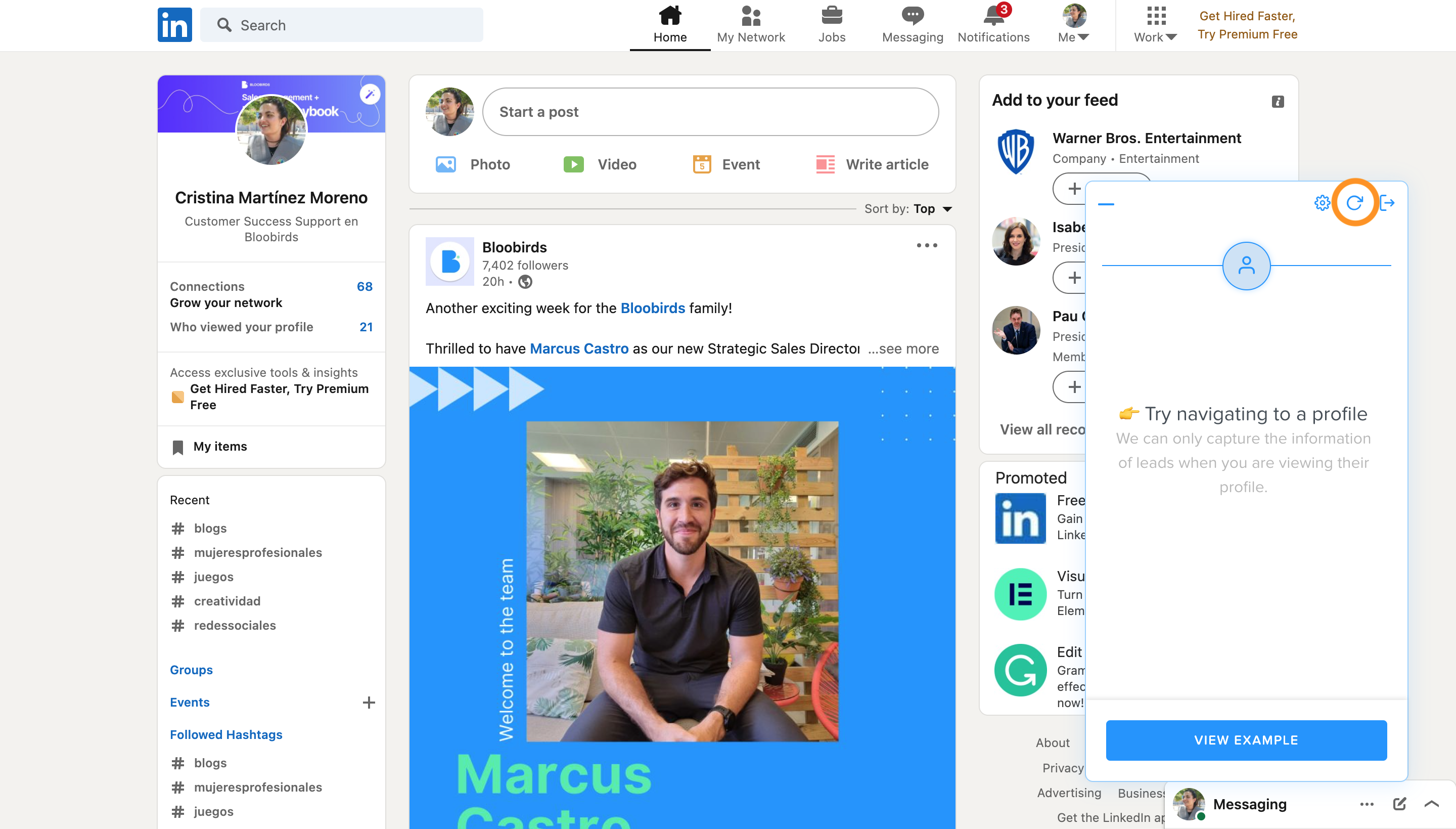 - Log out.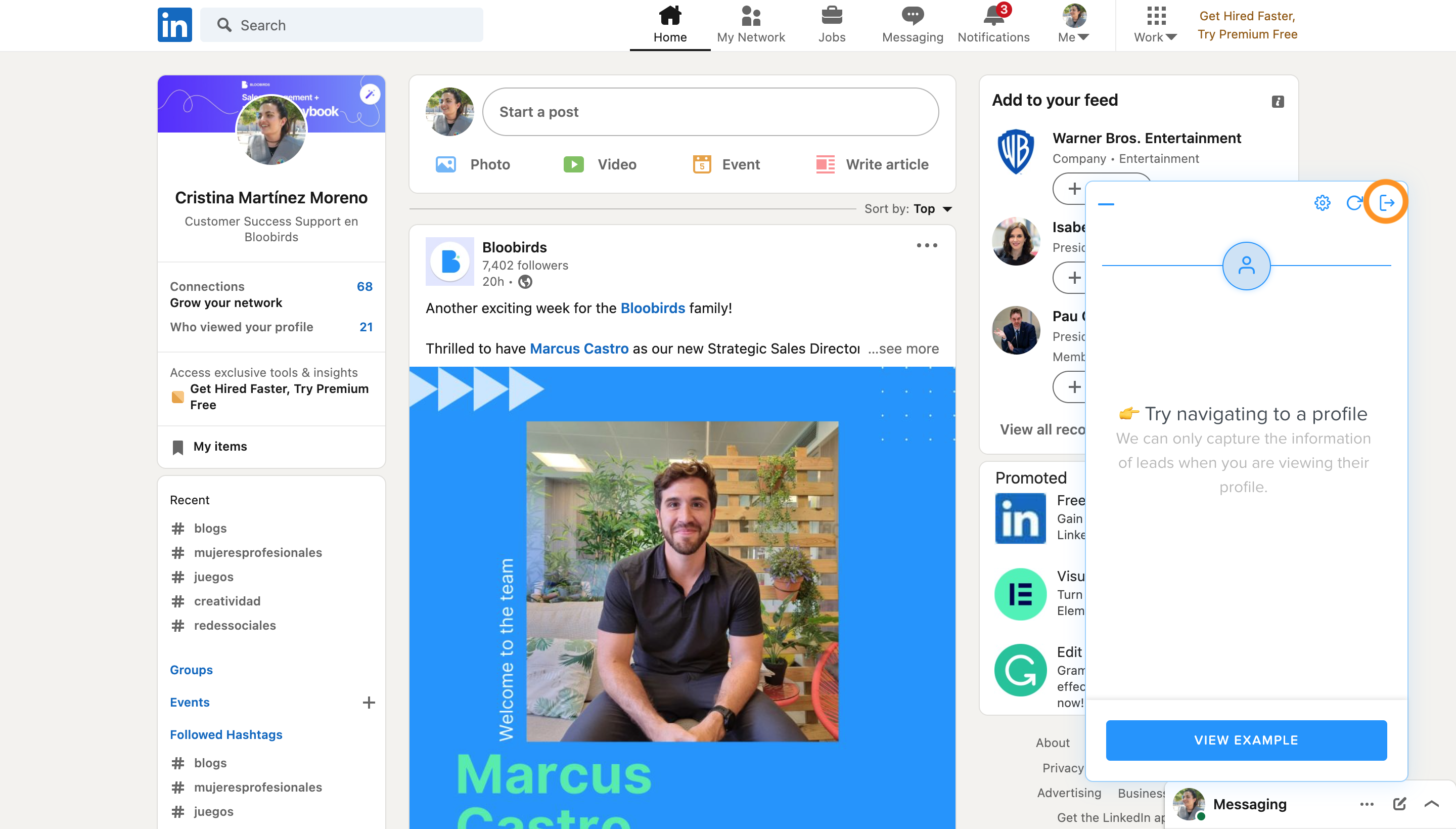 * In case you need extra help, you can click on VIEW EXAMPLE or watch our video here.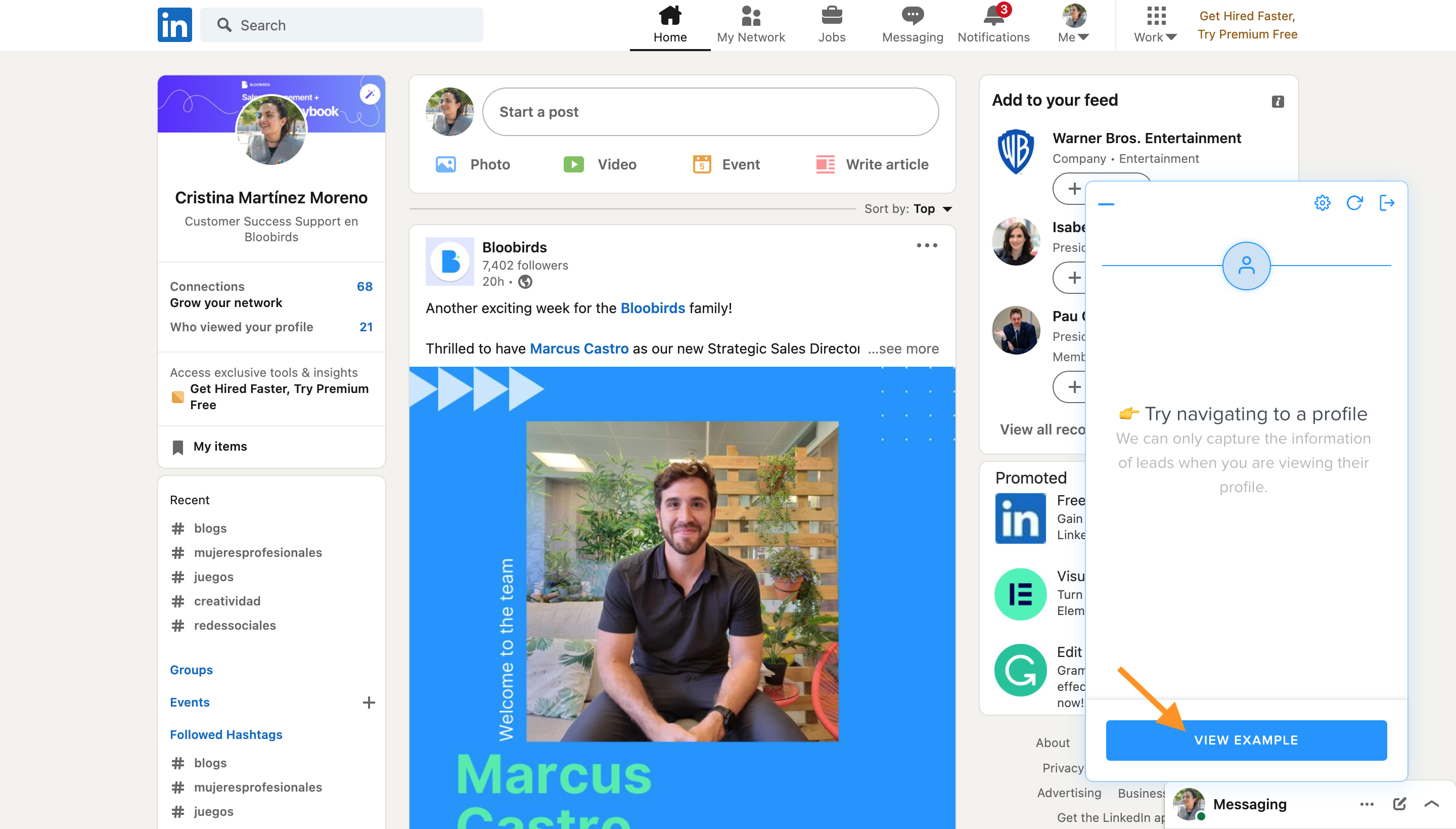 Now, you can start capturing. If you go to a lead's profile (or a company one), and you click on the extension icon, it will fill in the information available in the profile. The ICP, for example, is up to you.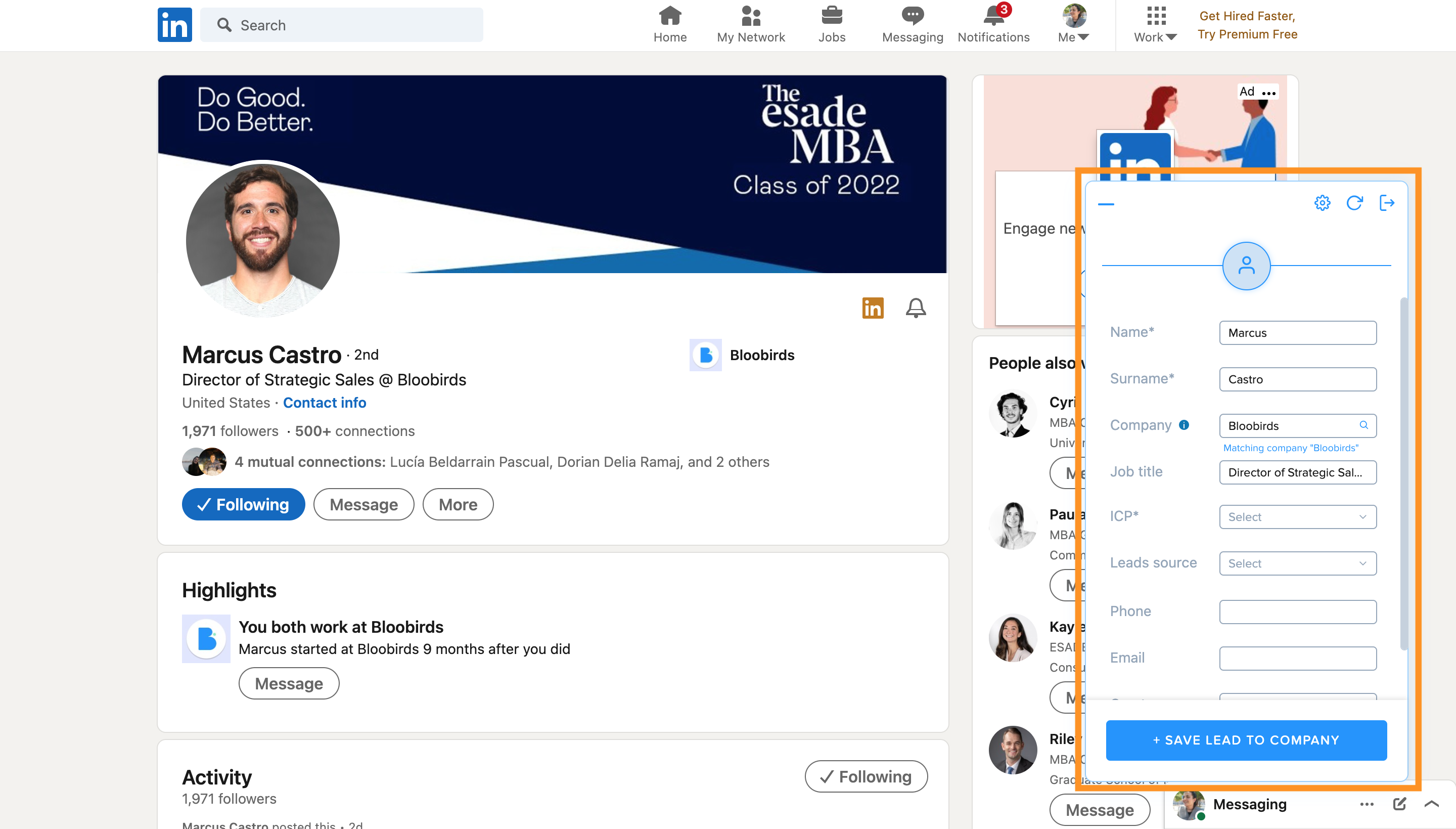 Take into account that some fields are required to capture a lead so make sure you've filled them. They are marked with a (*).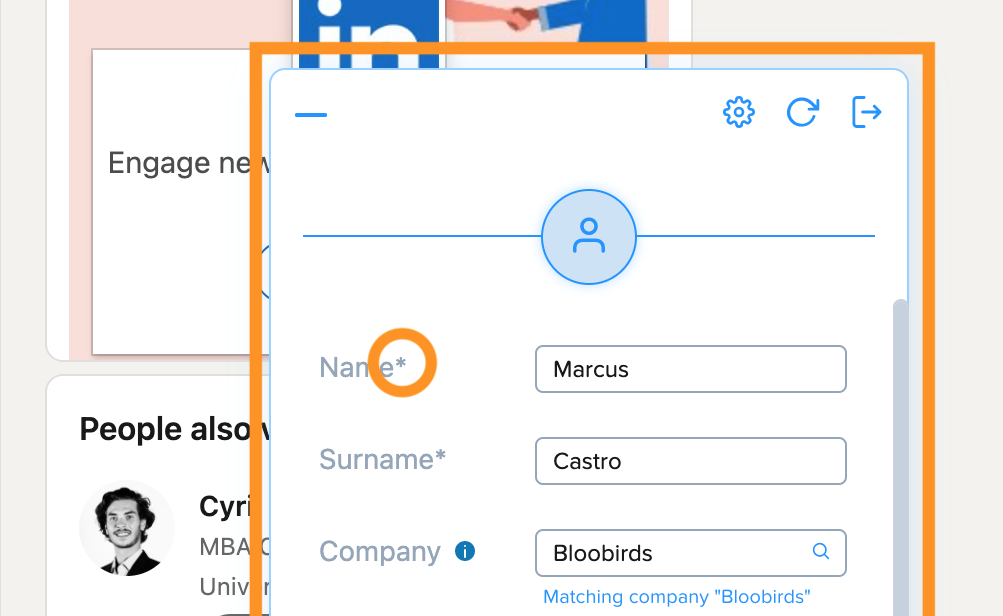 If the company already exists in Bloobirds, the lead will be assigned to it. If not, the lead will be saved without company.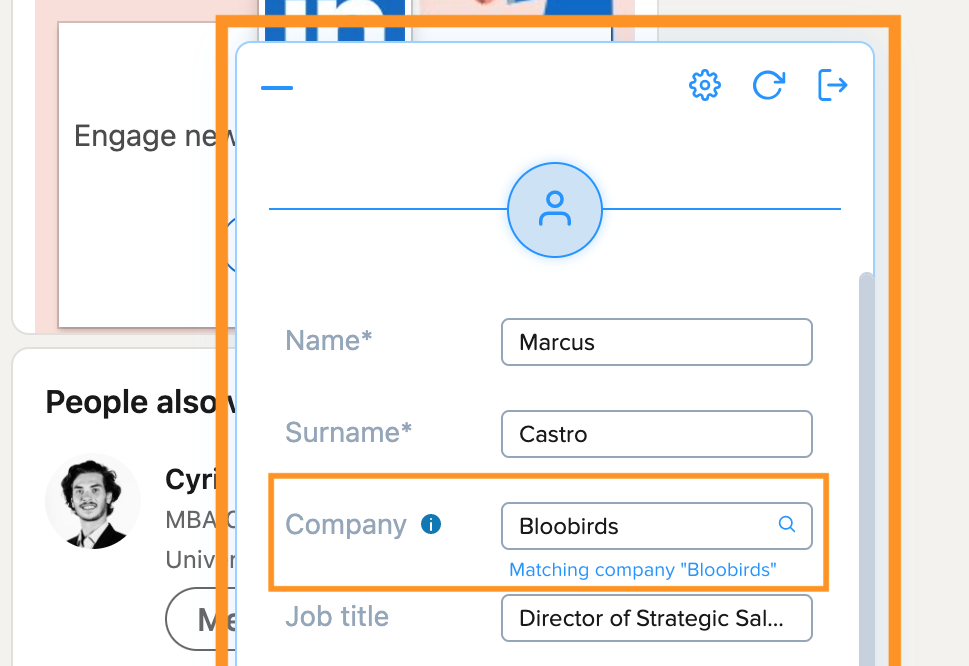 Click on +SAVE LEAD TO COMPANY.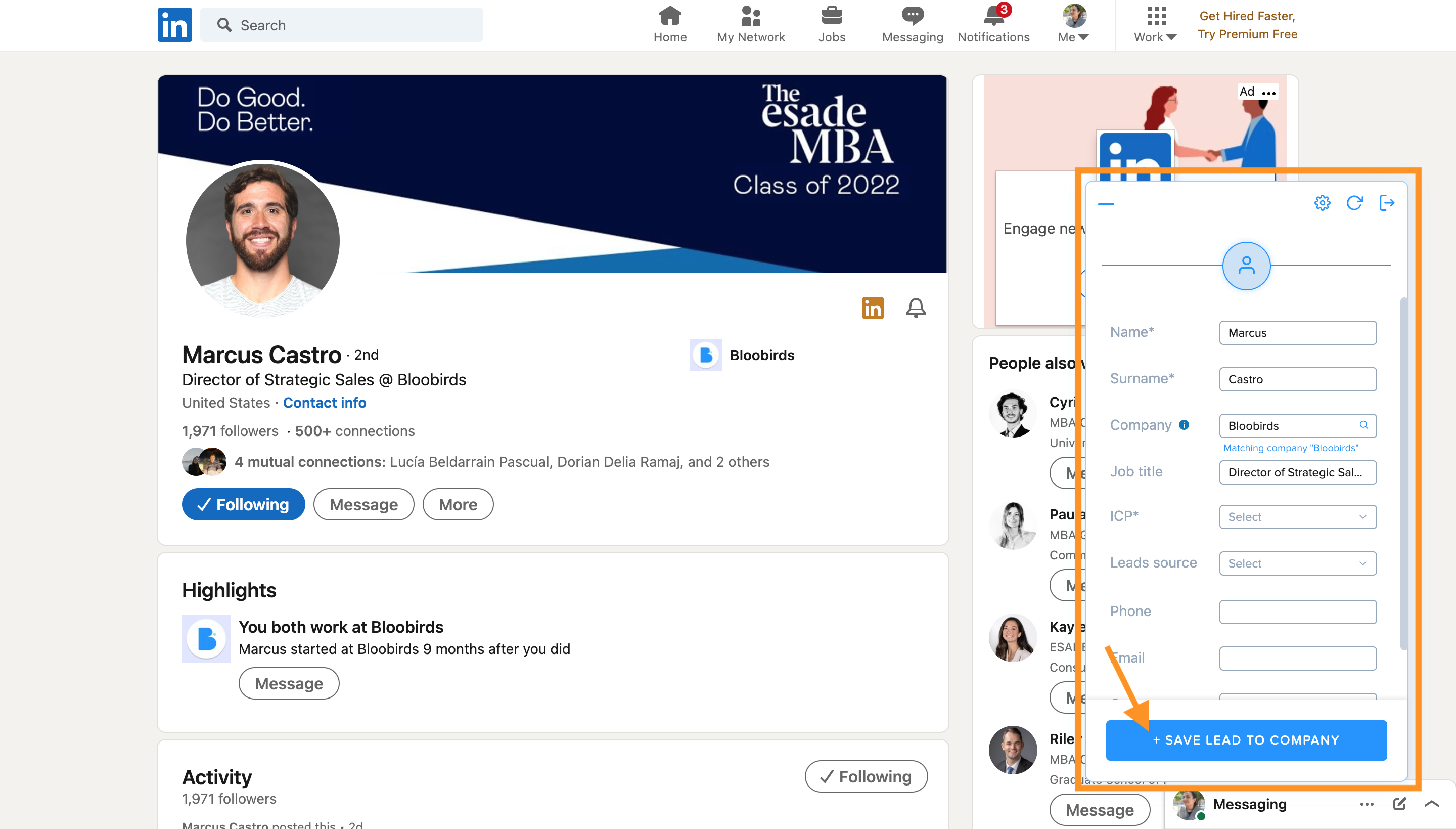 If the lead already exists in Bloobirds, the plug-in will let you know it and you can view it in the app just by clicking on the button.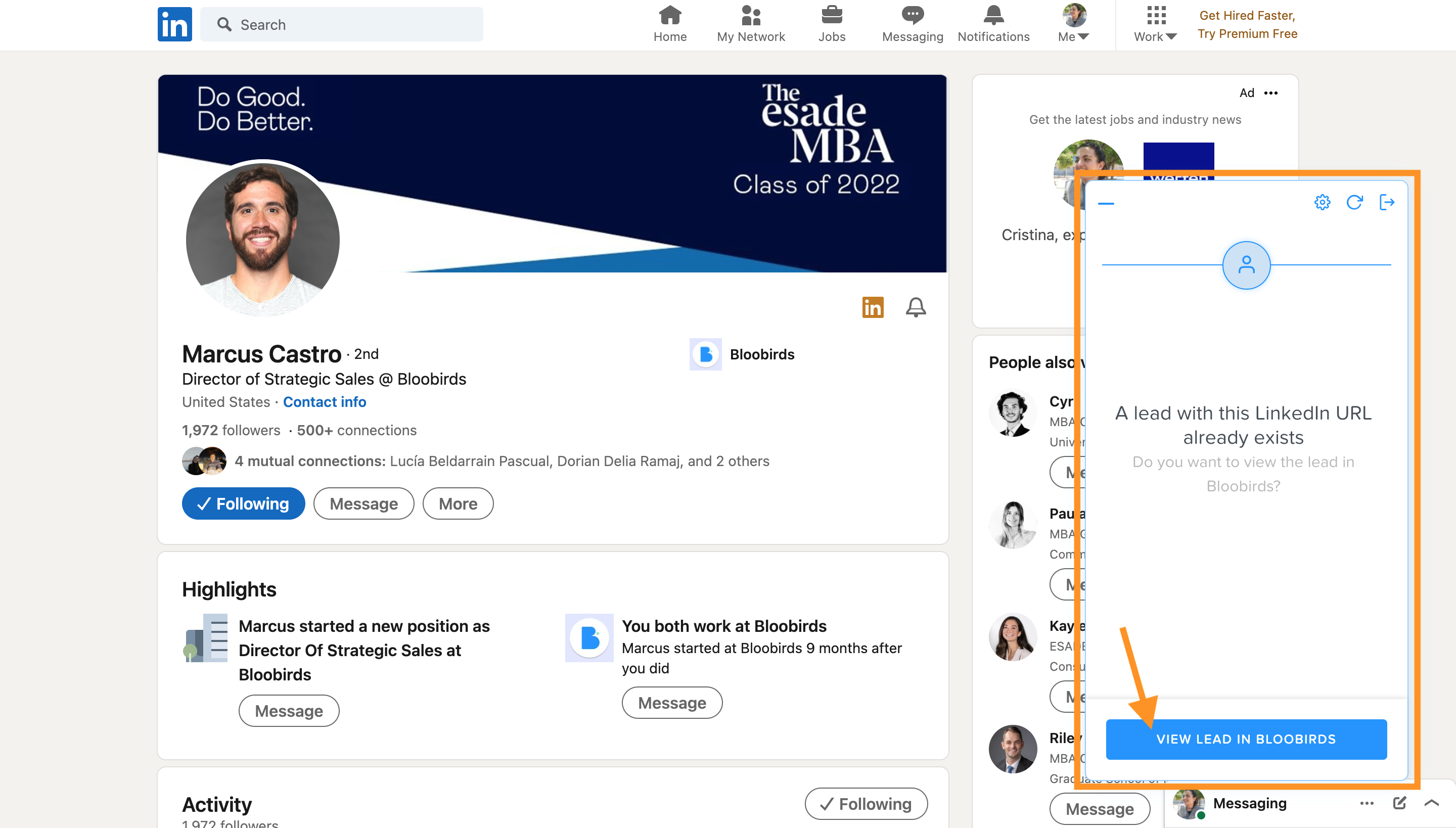 Once the lead is saved, if you click on VIEW LEAD ON BLOOBIRDS, a new window will open and you'll see its profile in Bloobirds so you can start prospecting.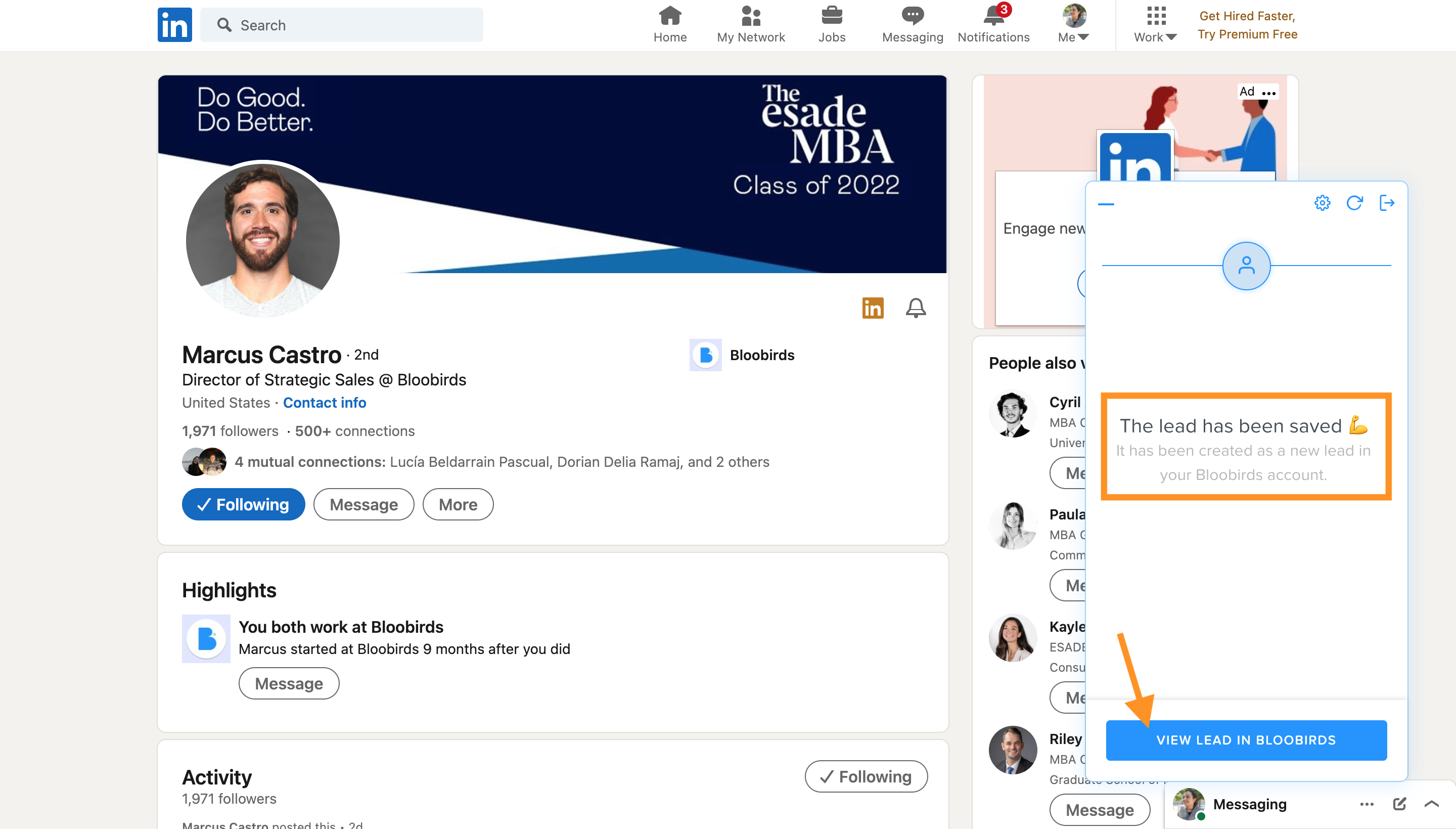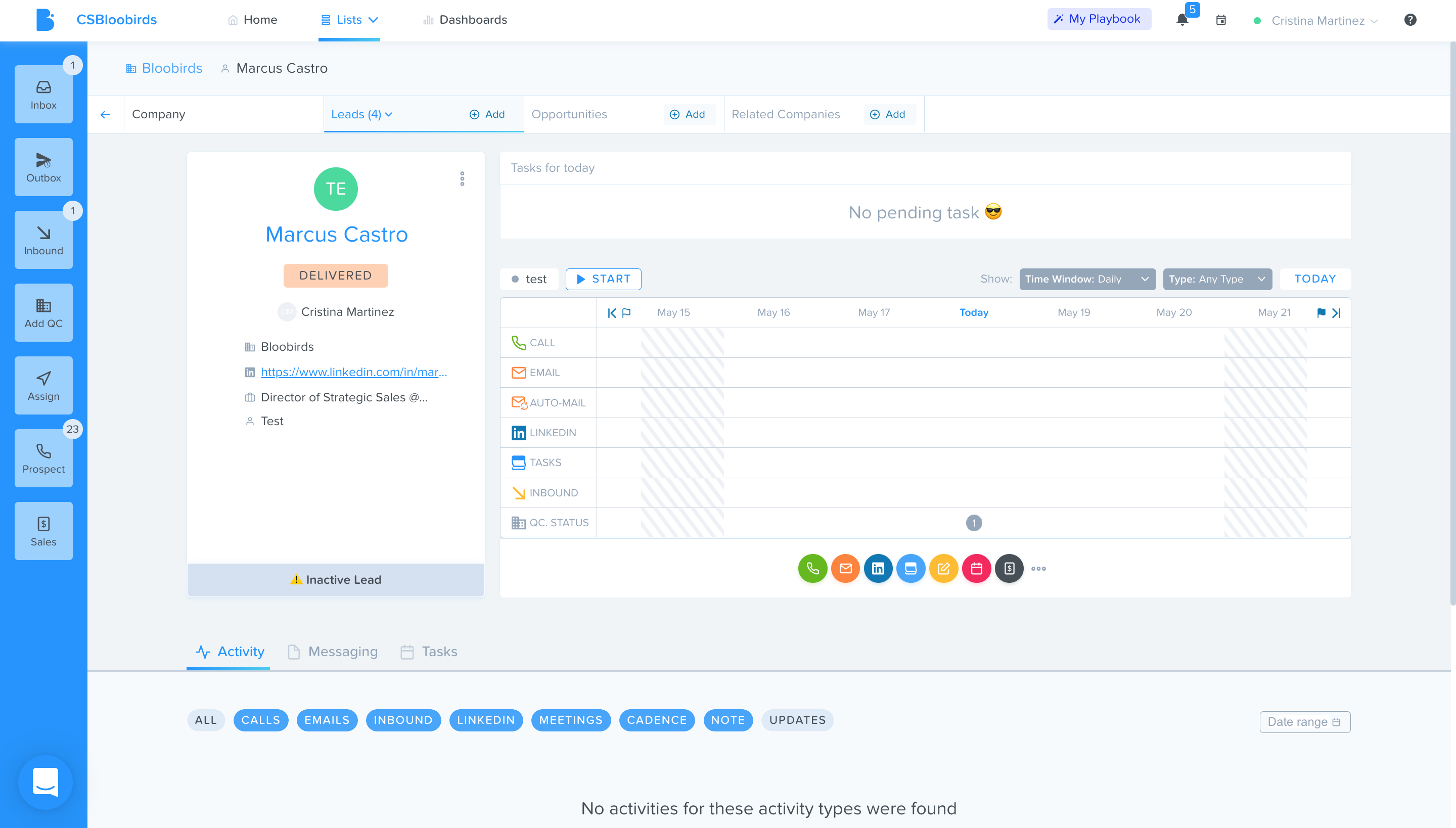 Where to find all the leads captured from LinkedIn
To see a list of all the leads that you have captured from LinkedIn, navigate to Lists > All saved lists.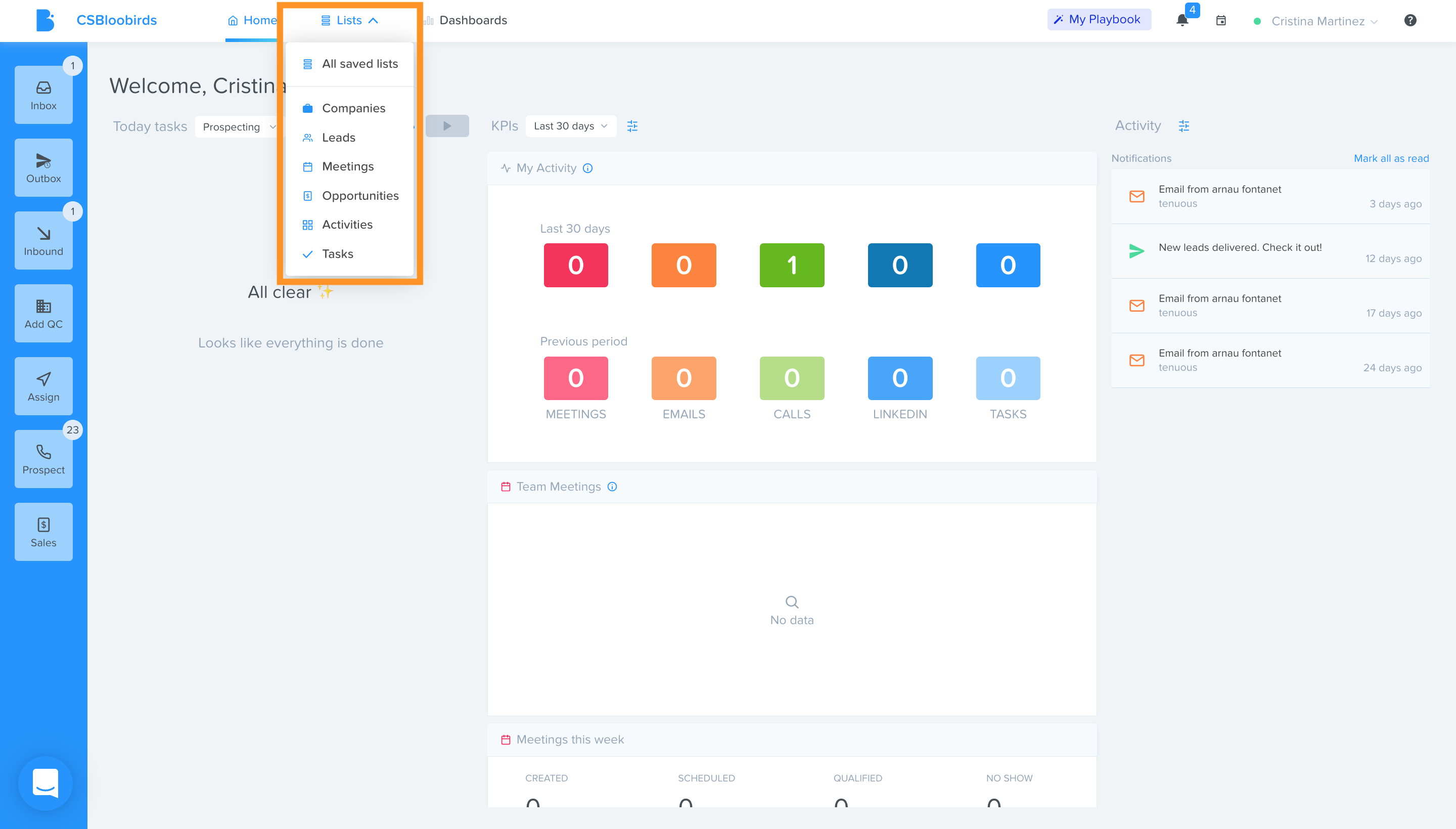 Once you are there, search for "LinkedIn" to find a list of all leads that have been captured from LinkedIn.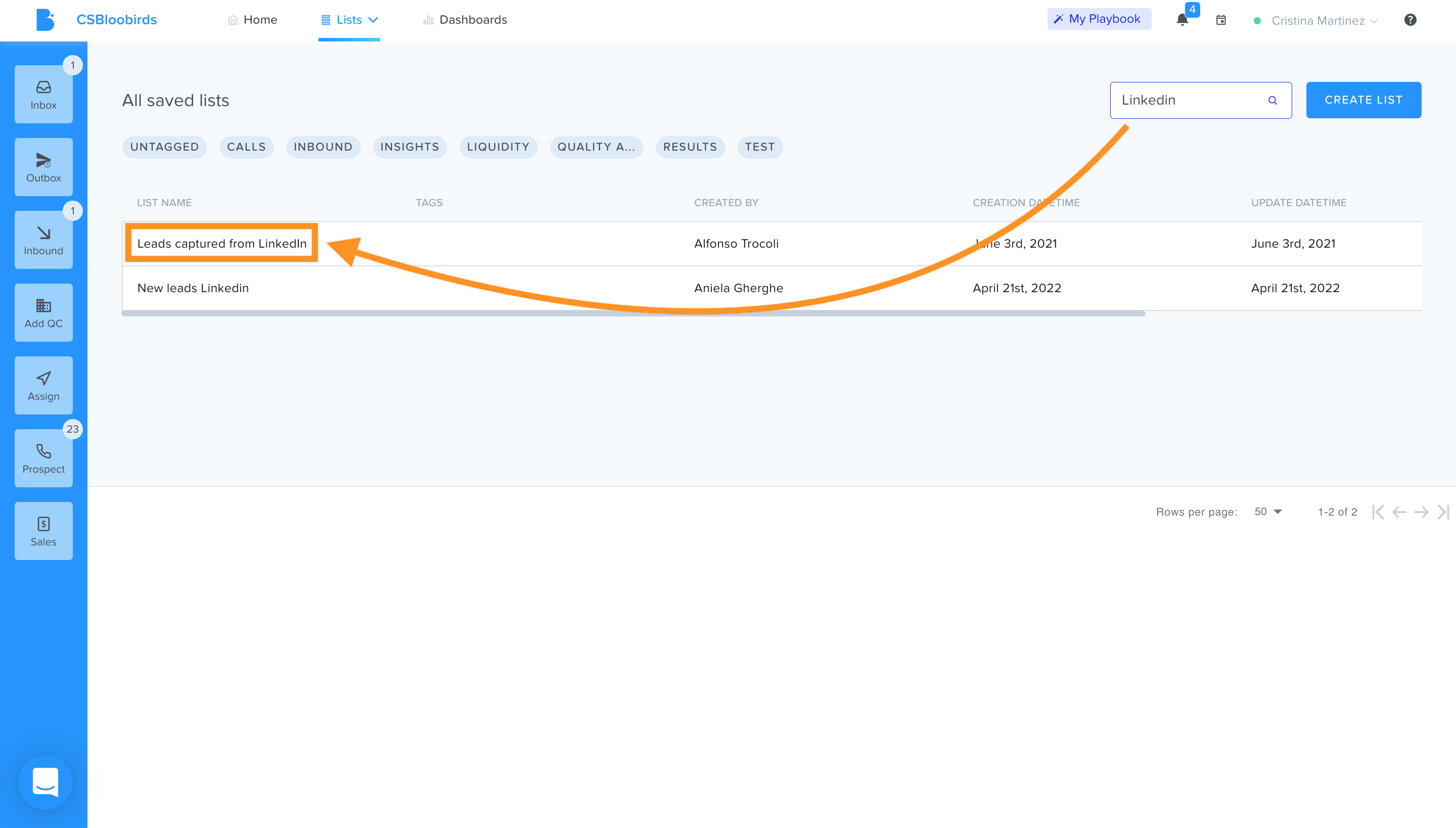 If you want to see only leads that you have captured yourself, simply filter this list. Click on Filters on the top right of the screen and afterward select Company From Lead. Finally, click on Assigned to and select your own name.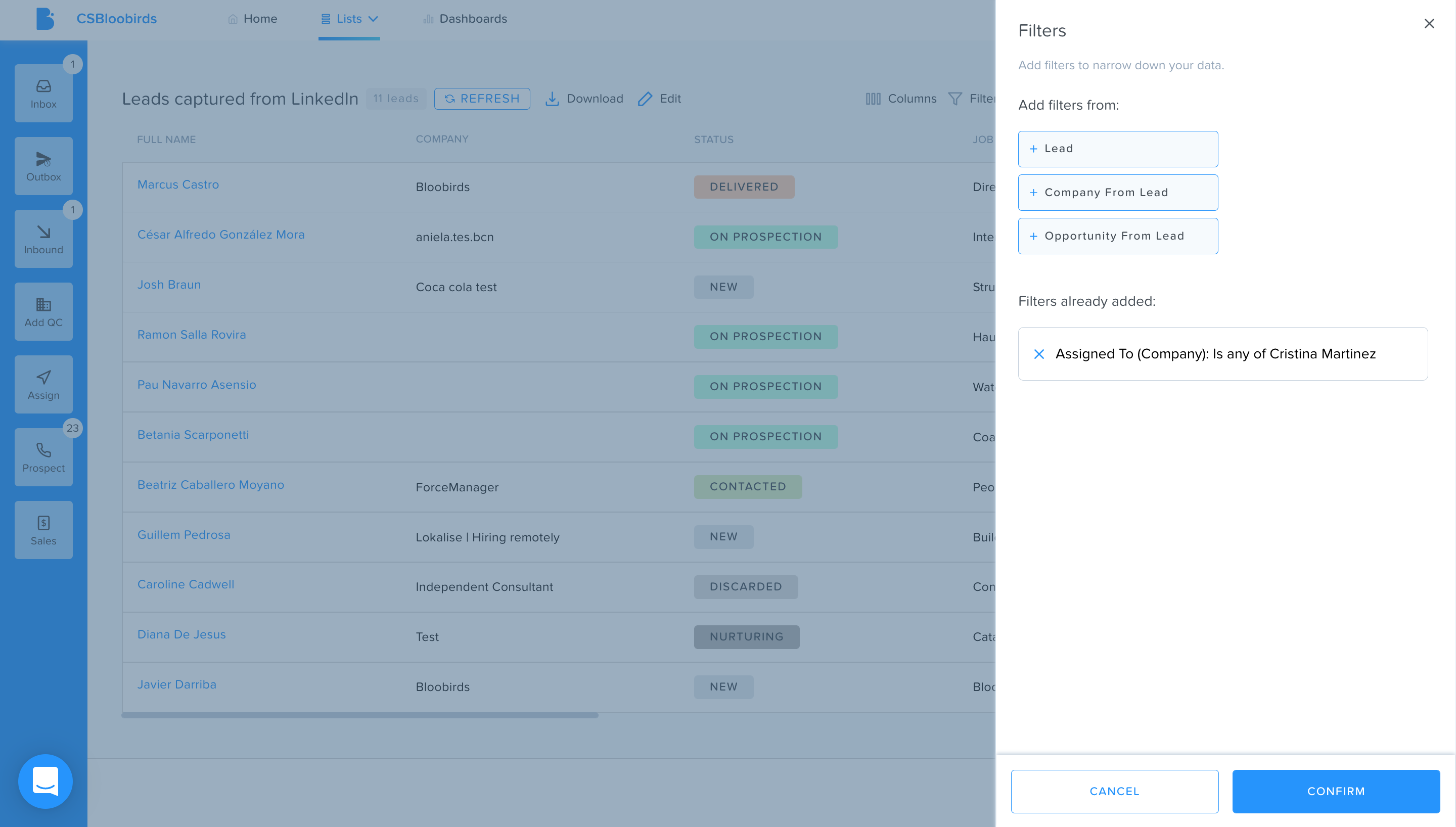 LinkedIn Messaging
You can send LinkedIn messages with Bloobirds' templates. In a profile, in messaging tab, specifically in LinkedIn Templates, you can choose a template and click on OPEN LINKEDIN.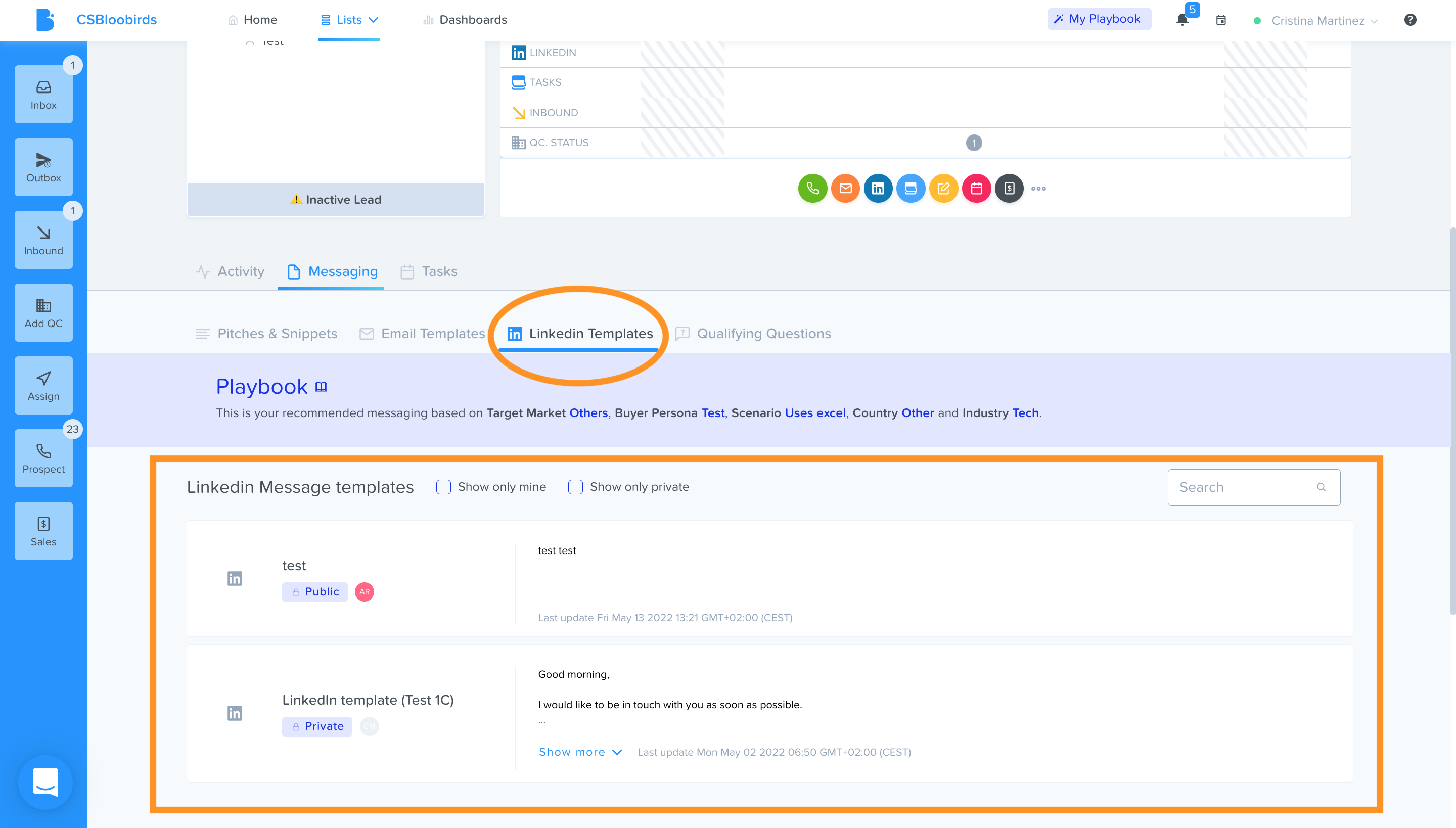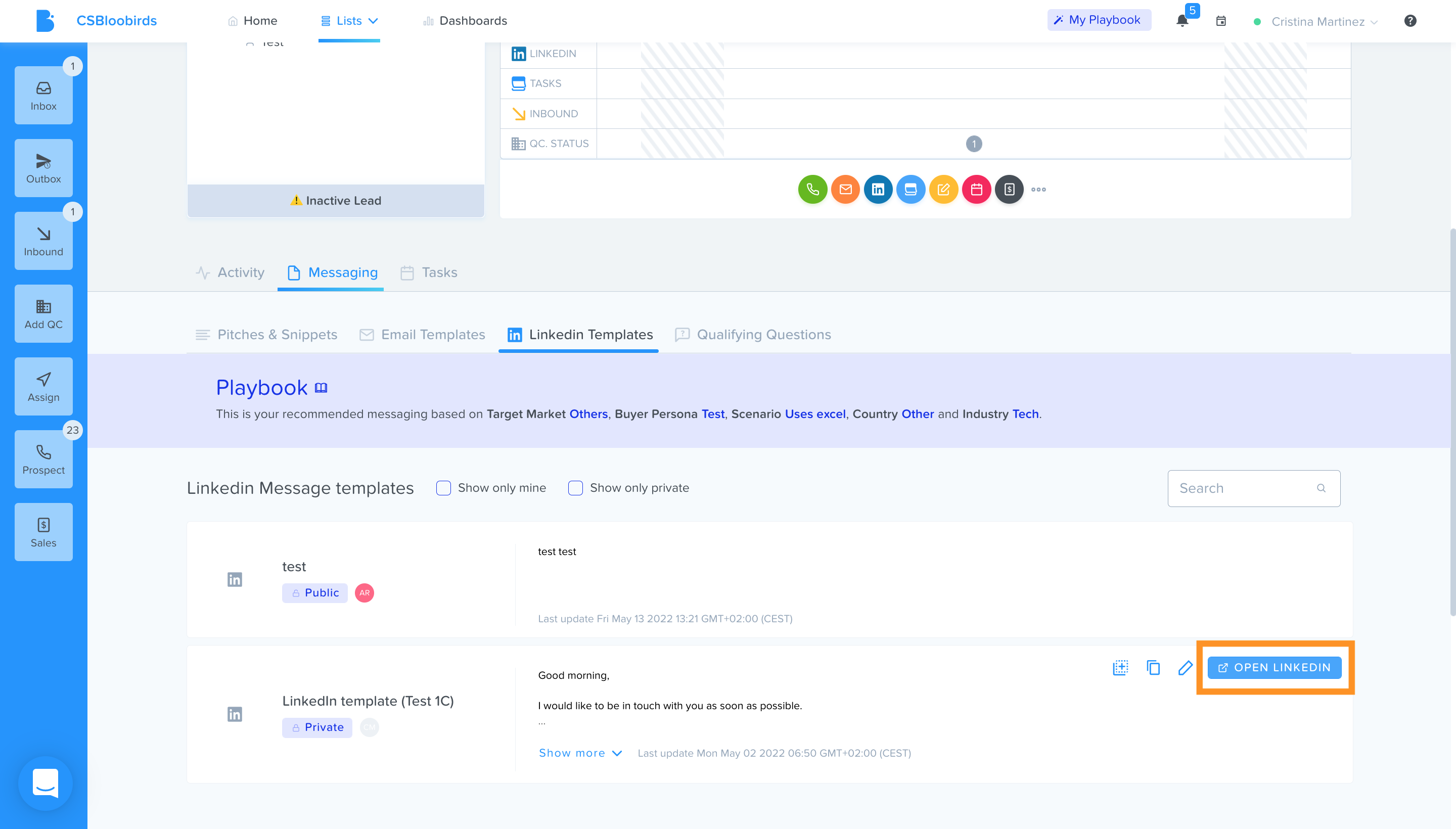 The template will be copied and the LinkedIn messaging page will be opened in another window. Choose the conversation and paste. You'll see the template in the conversation and you just need to send the message.