What is it?
Based on sales best practices, we recommend to use some lists. With these you are be able to keep track on everyday tasks, set priorities, identify and generate new sales.
Use them lists as a guideline to create and customise your own, adapting them to your business-specific needs.
We also recommend you to tag all lists by following a common structure.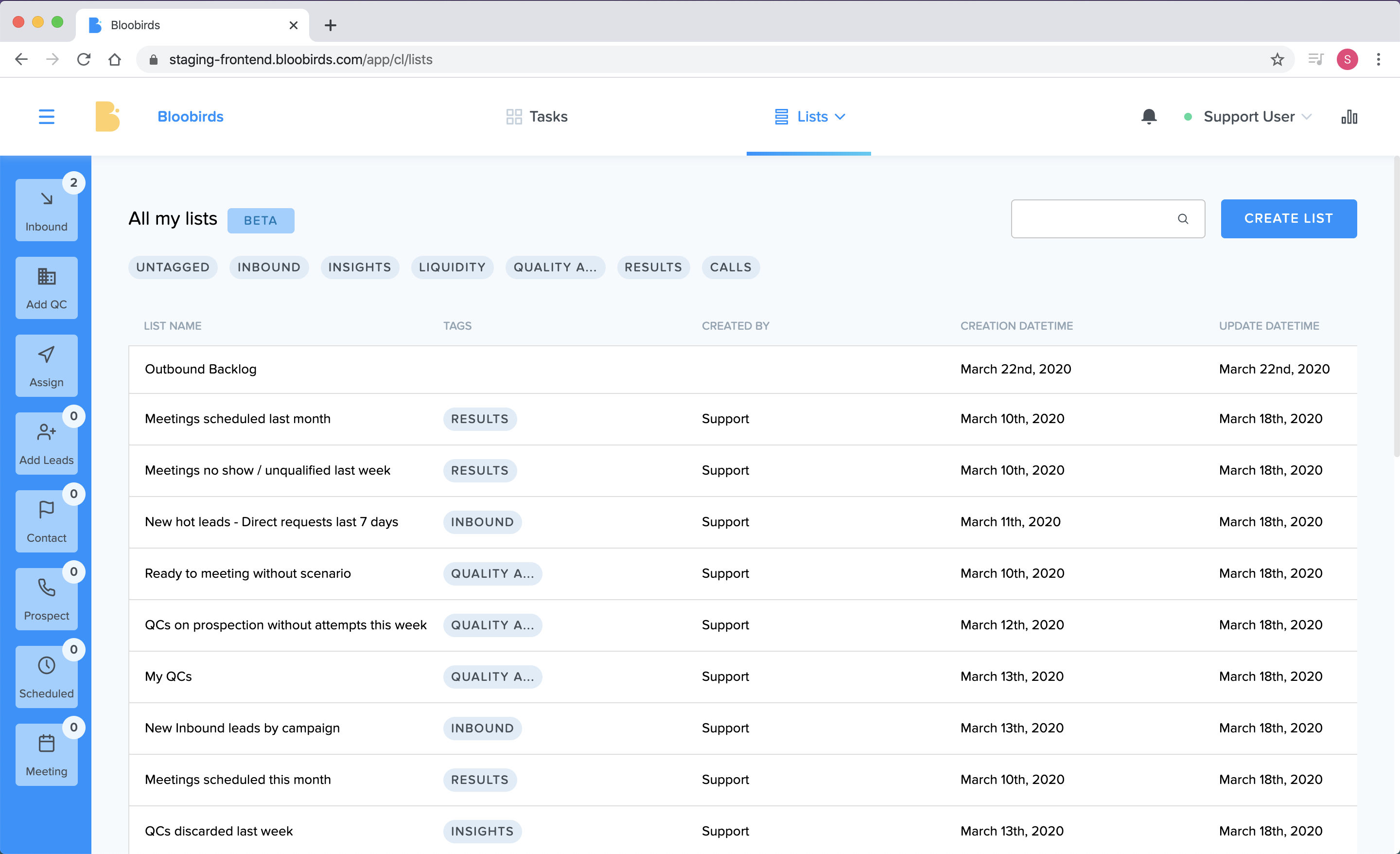 How does it work?
Our recommended lists have been created in the same way you would create any other custom list, and we have organised them under seven tags.
Untagged
Under this category, Bloobirds collects all the lists created that have no tag associated.
As a best practice, all lists should be gathered under at least one tag, and a new one should be created if the existing do not represent what is in it.
Therefore, this category is mainly used for you not to miss any list.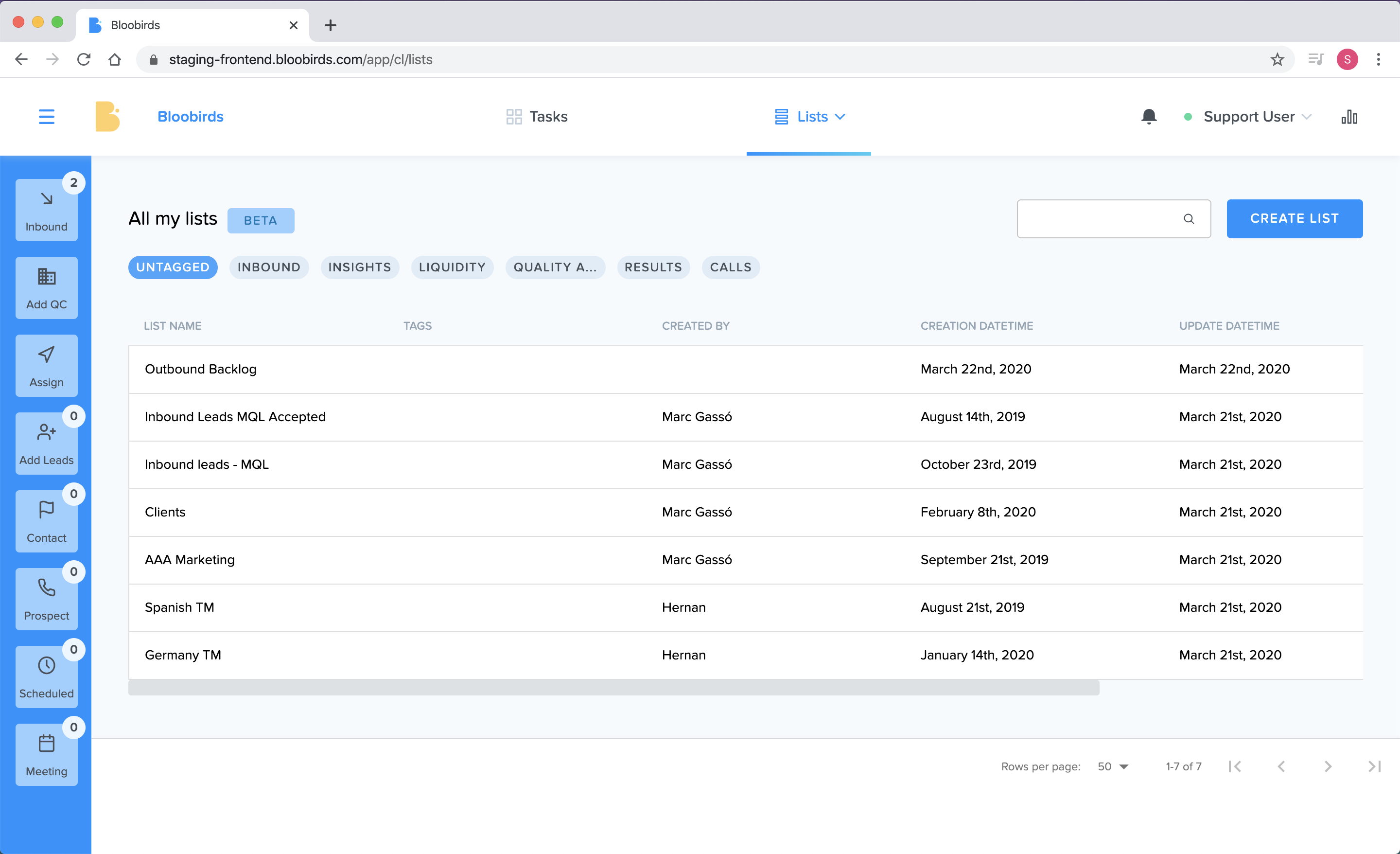 Inbound
Under the inbound tag are lists that relate incoming leads with the marketing campaigns.
It helps you follow up on the leads generated by marketing, providing relevant background information on the lead, company and marketing campaign.
Use them to prioritise the leads that have shown interest in your product, because they have a greater probability to buy your solution.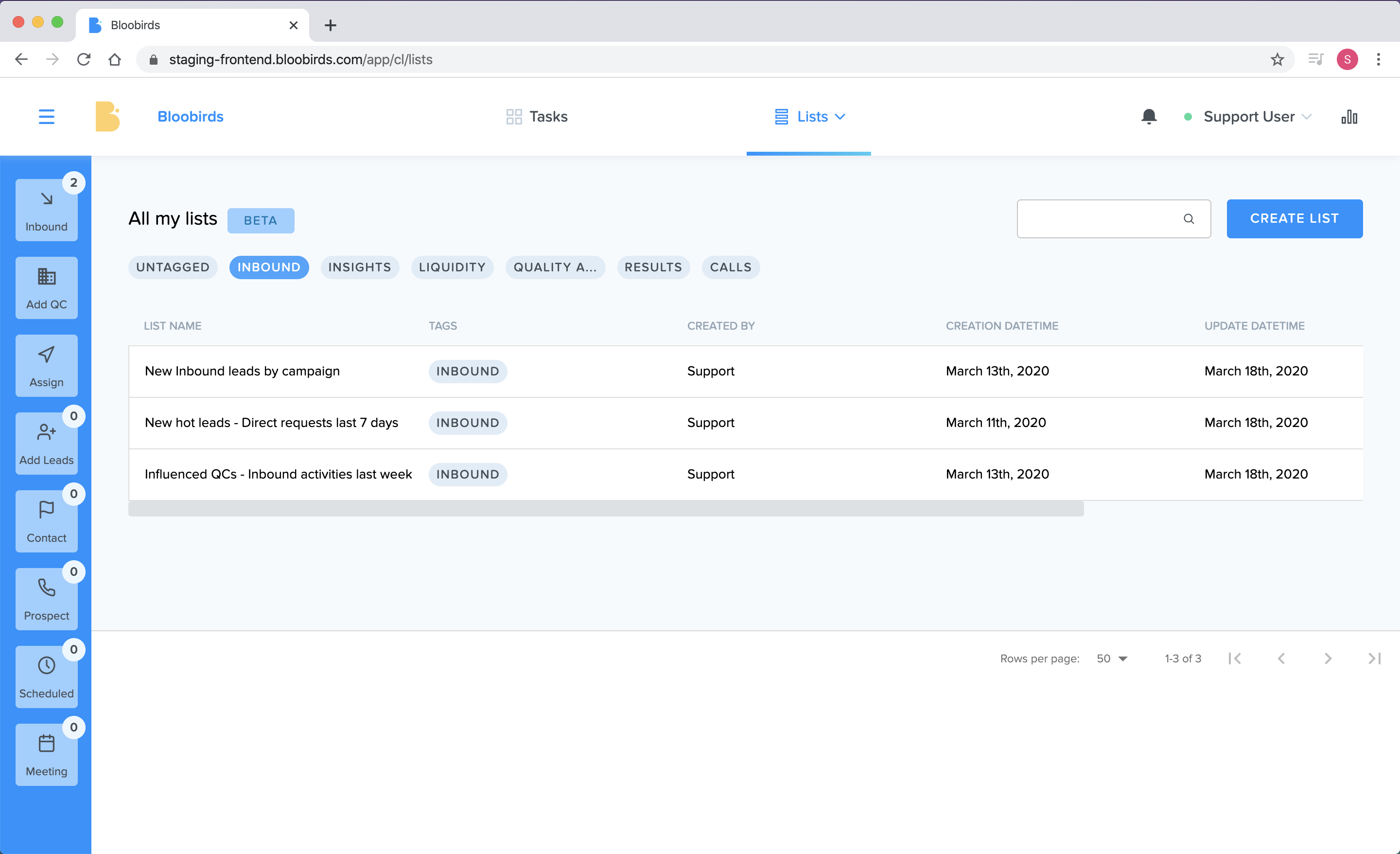 These are the recommended inbound lists:
New inbound leads by campaign
Here you find all leads that came in via inbound, the company associated, marketing acquisition campaign they came through and job title.
Use the column arrows, columns and filters to organise them in the way that best suits you.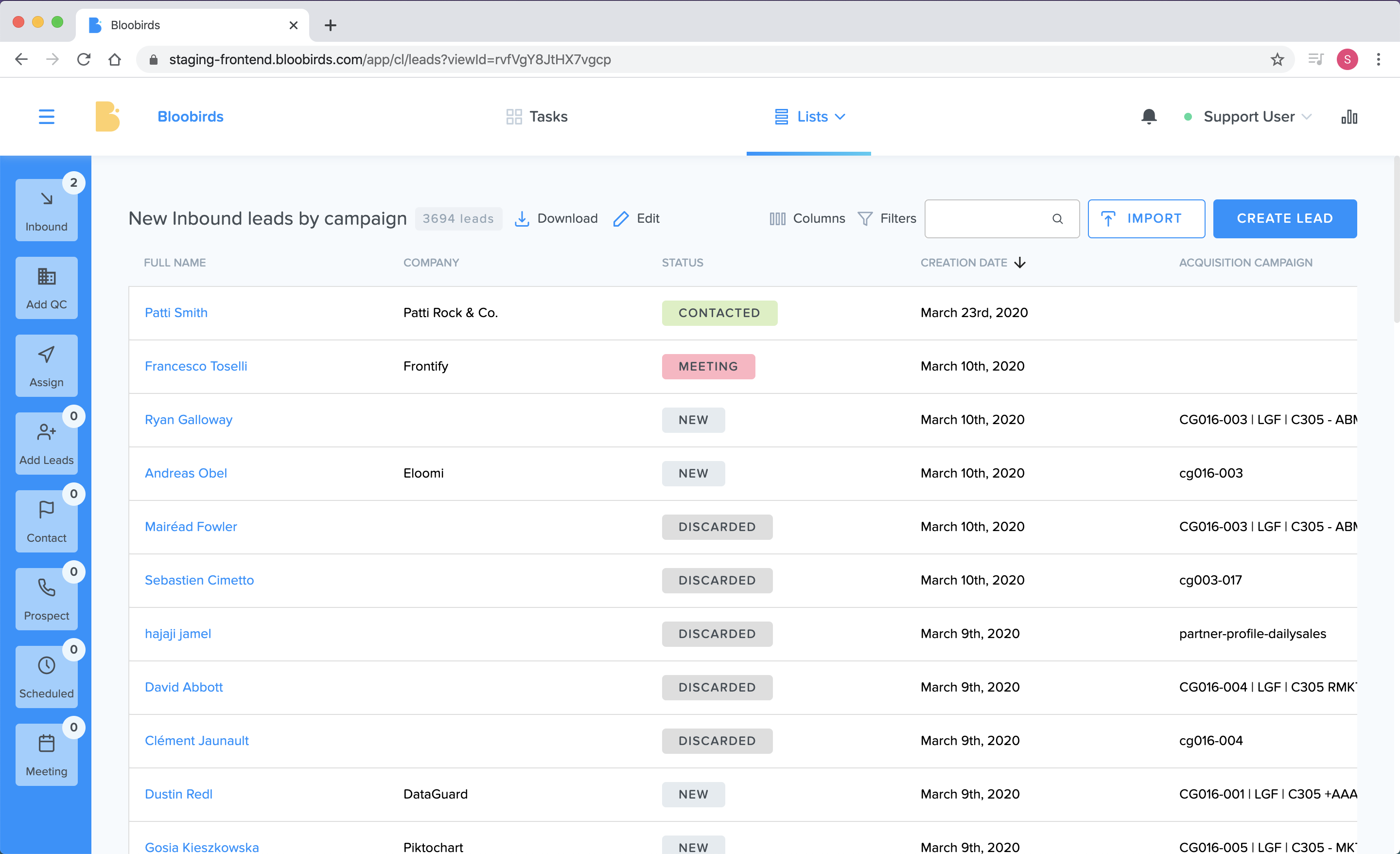 New hot leads - Direct requests last 7 days
This list shows the latest leads that have come in via inbound with a direct request.
These are your top priority inbound leads to be contacted as soon as possible, not to miss the window of opportunity created by marketing.
When getting in touch with them, make sure you refer to and answer their request.
Influenced QCs - Inbound activities last week
These are companies that are currently on prospection, engaged or contacted and that have registered an inbound activity this week.
Follow up on them as soon as possible, using the associated marketing campaign to build your sales pitch.
With this list you can also assess which marketing campaigns are triggering a greater response on your prospects.
Insights
The lists under this tag help you understand why companies that are considered a target have dropped out from the sales pipeline or are not moving forward.
And not only that, they also provide an insight on what has been done right with the companies that have converted.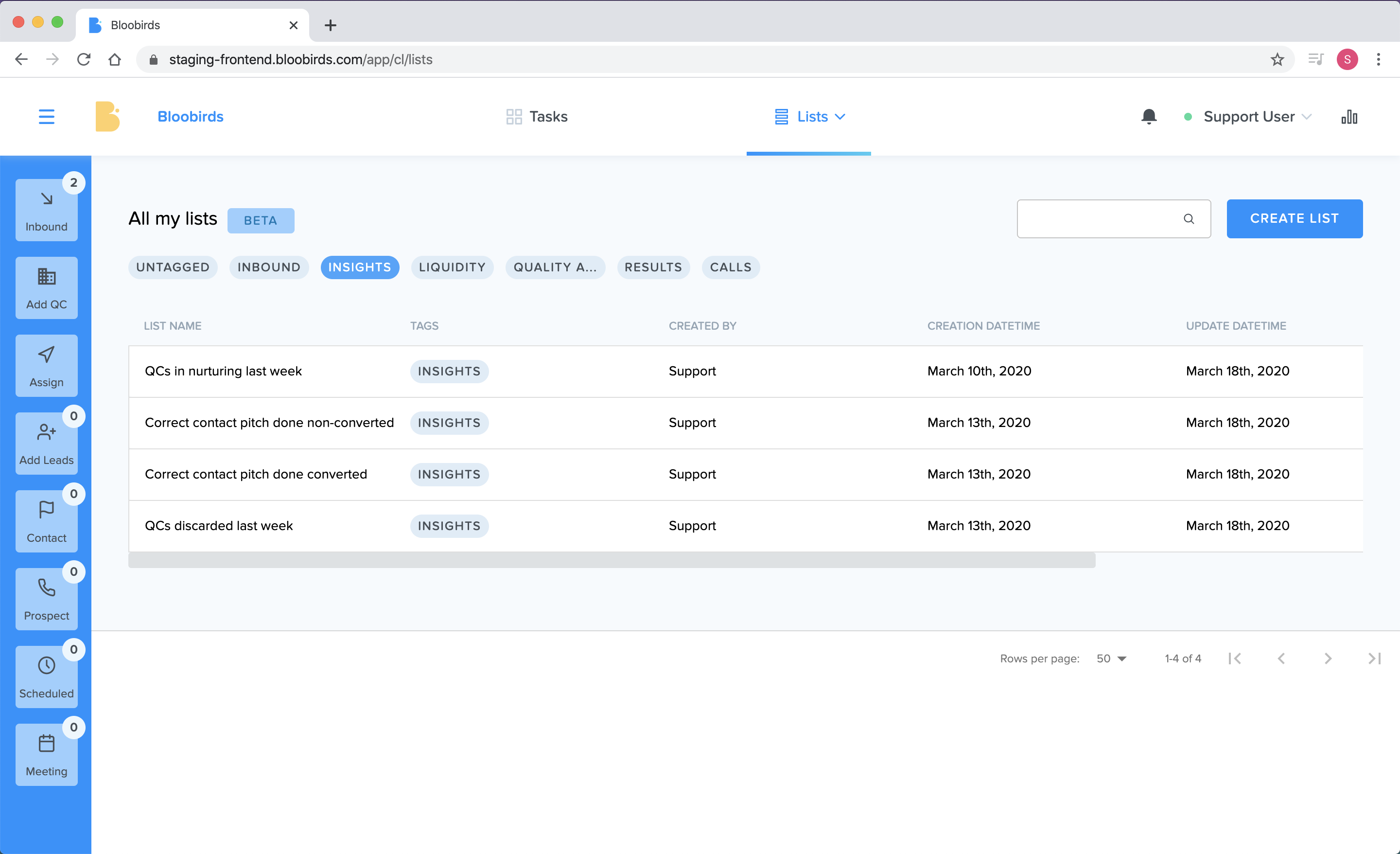 These are our recommended insights lists:
QCs in nurturing last week
Shows you which companies recently went into nurturing, make sure you have a look at the reasons recorded by the SDR to spot any patterns and adapt your sales strategy accordingly.
Correct contact pitch done converted
Under this list you find the companies for which the SDR did a pitch and converted, this could be an indicator of a pitch that is working very well with your prospects and even help spot a sales star in the SDR team.
Correct contact pitch done non-converted
Under this list are companies for which the SDR did a pitch and did not convert. You may want to investigate further and find out what is the reason behind the company not converting:
Was the pitch done correctly?

Was the sales strategy adequate?

Is your solution relevant for their particular business needs?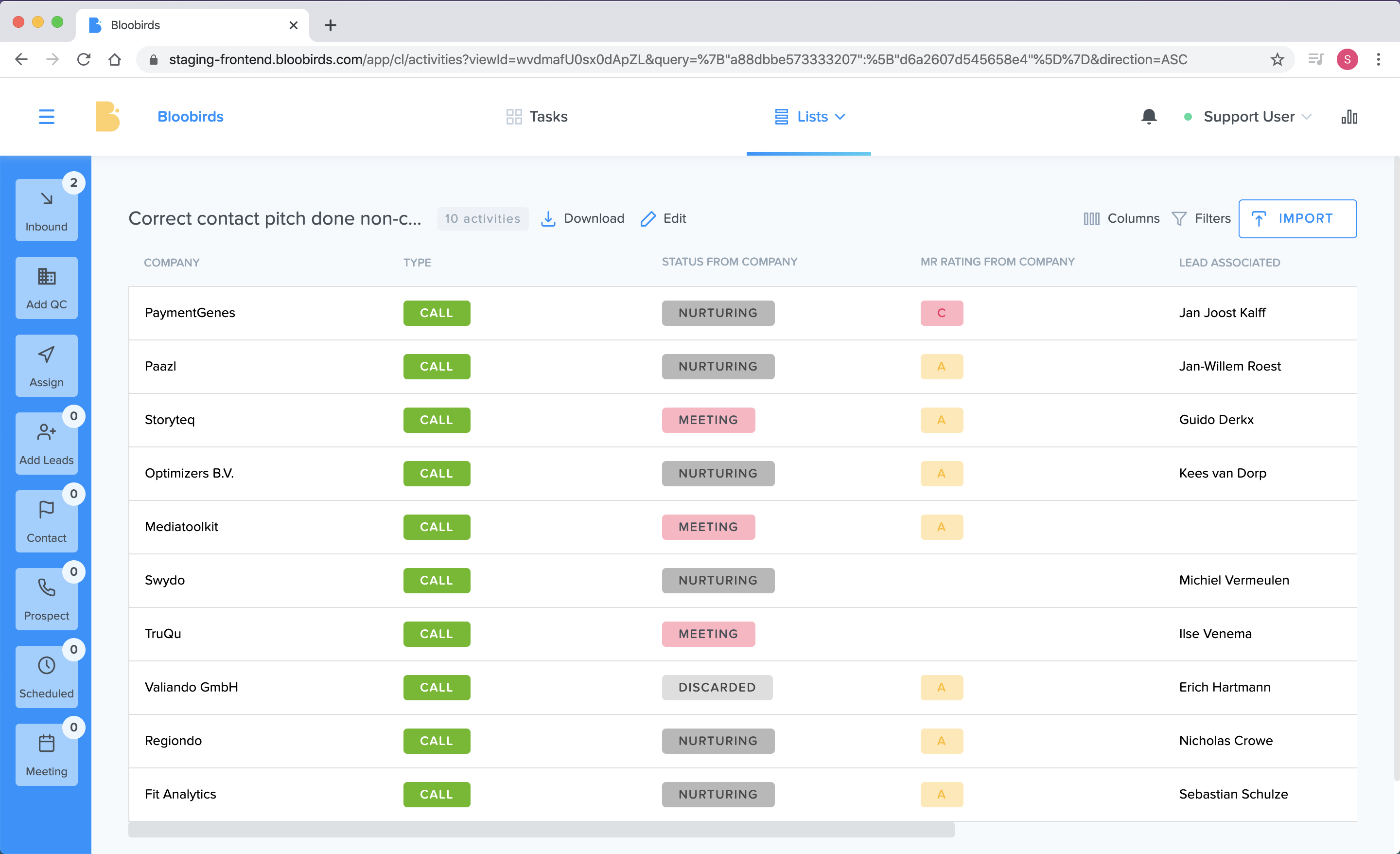 QCs discarded last week
Here you find companies that went into nurturing or discarded last week, have a look at the reasons recorded by the SDR to establish patterns on which you can base your sales decisions moving forward.
Liquidity
The lists here help you establish the speed at which companies are moving through the sales pipeline and spot any deviations.
If the companies are not moving at the desired speed, you may want to dig further and find out how your sales team is managing sales flow.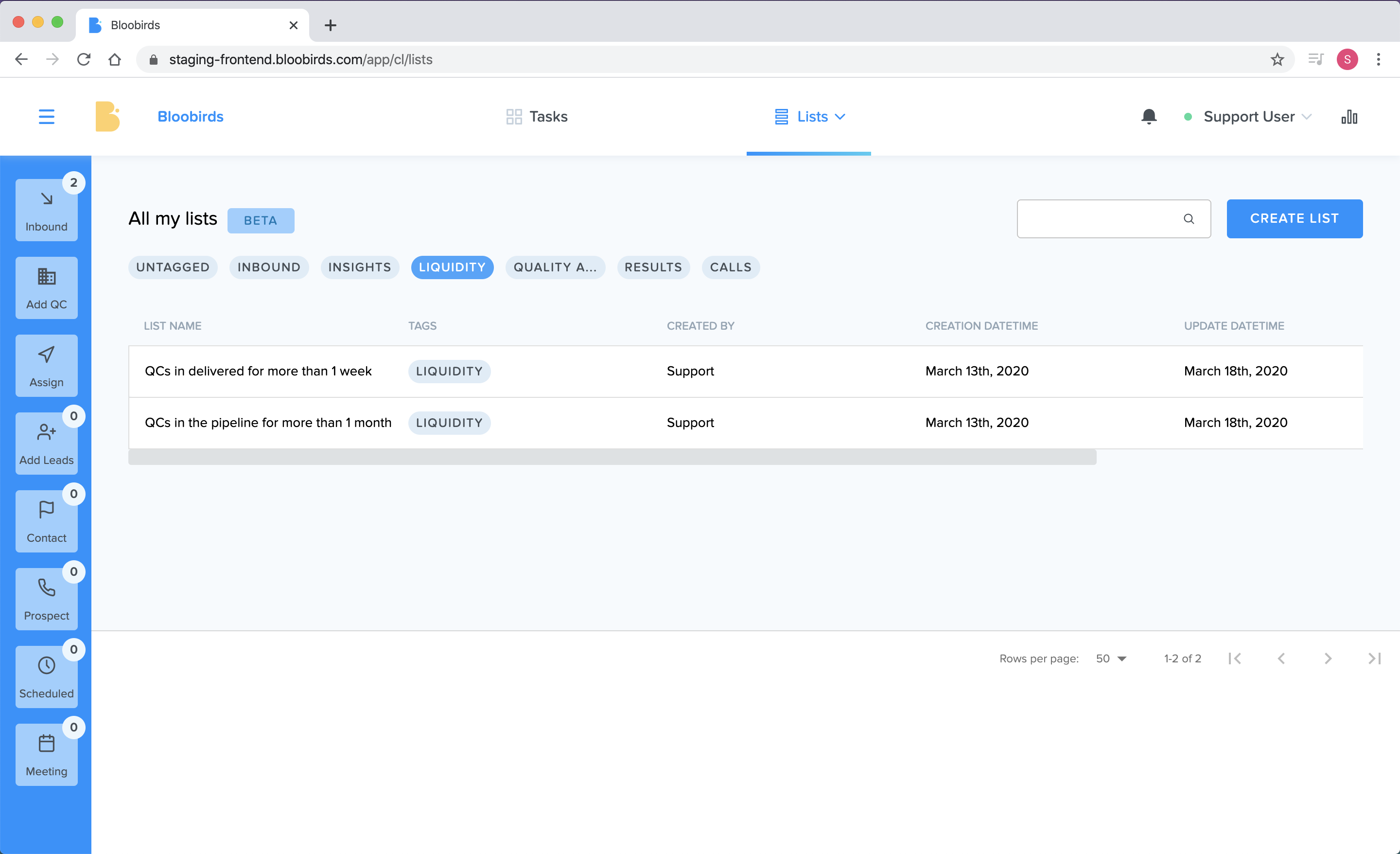 The liquidity lists are:
QCs in the pipeline for more than 1 month
This list shows companies that have been in the pipeline for more than 1 month, from status delivered to meeting, excluding those in status discarded.
If your sales cycle has a different timing you should adapt this list to your particular time frame, by using the filters.
QCs in delivered for more than 1 week
This list shows the companies that have been in status delivered for more than one week. You may want to find out why there has been no action taken on them.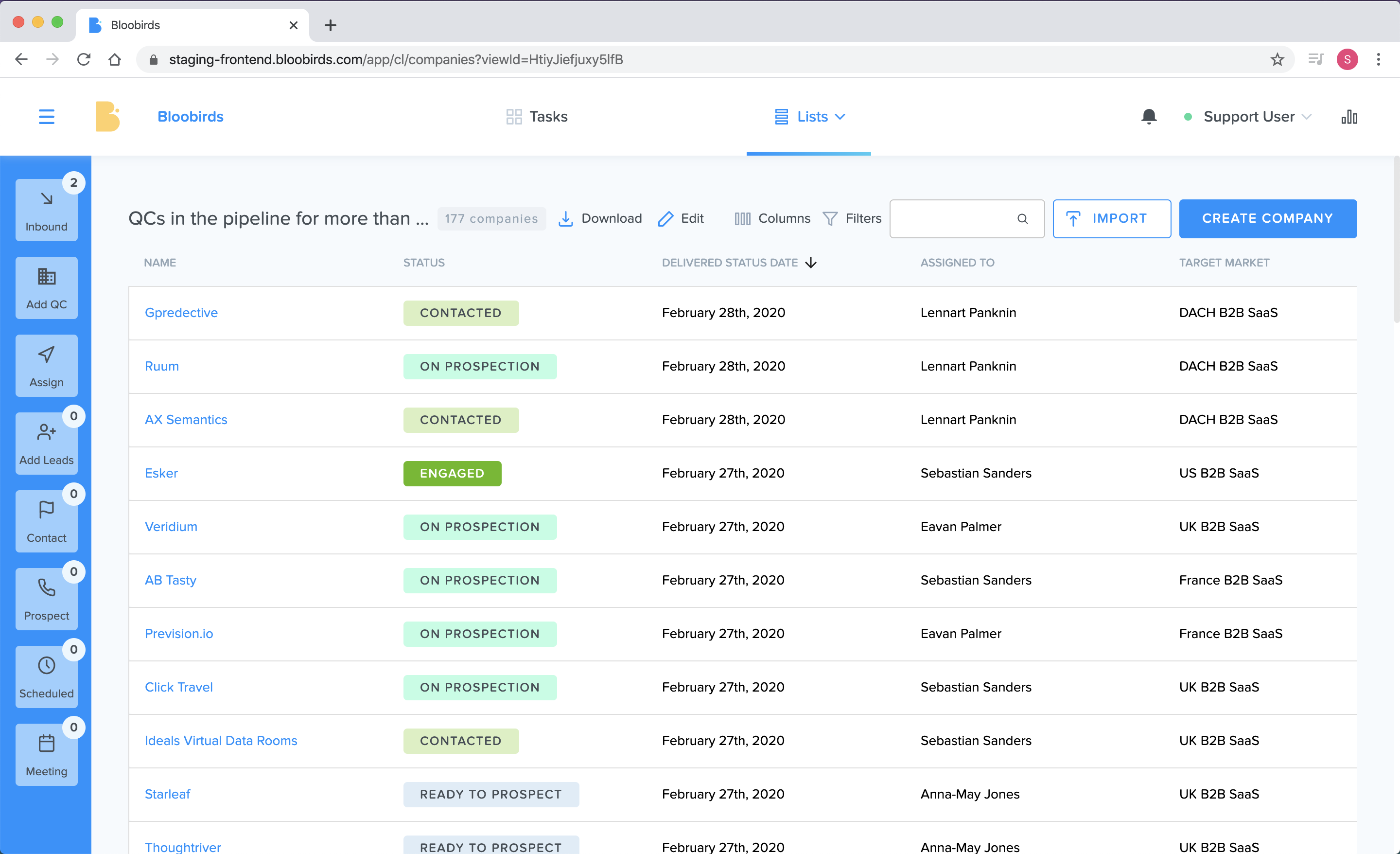 Quality and control
The success of a sales strategy is in great measure determined by the precision of its implementation. So let's be precise.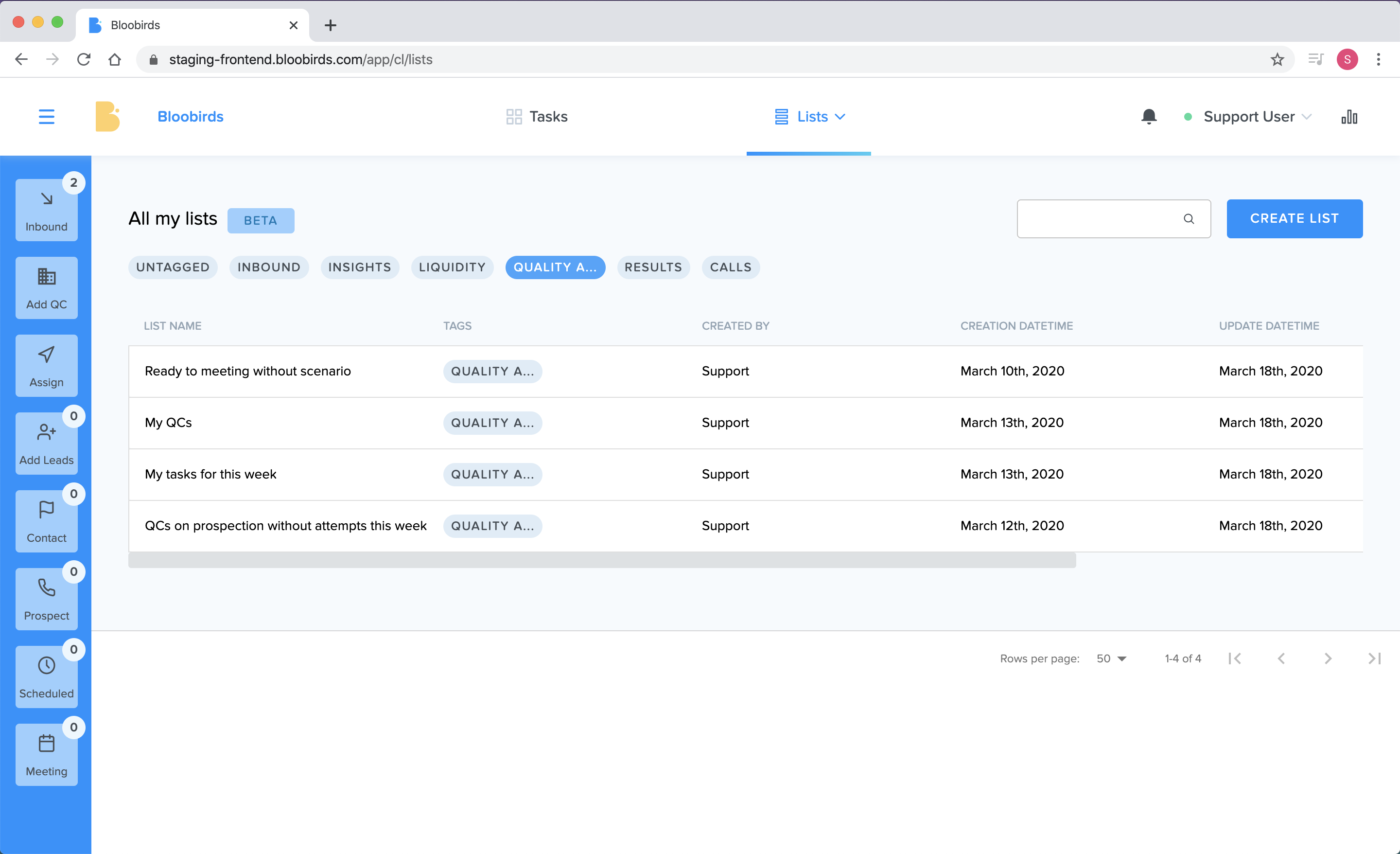 Under this tag we have grouped two types of lists:
Quality lists ensure that the information provided by the SDRs is complete and accurate.

Control lists help the SDRs keep track of their day to day work without missing anything. But it is also useful for sales managers to review the consistency of the work carried out by the SDRs.
There are two lists that are specific for quality
Ready to meeting without scenario
Shows companies in status meeting that do not have the scenario field filled in.
The scenario field provides the account executive with necessary background information to have a sales meeting with the client. And therefore we want to ensure it is filled in before the meeting takes place.
Customise this list by adding the fields that you consider relevant to be filled in before the account executive has the meeting with the client.
The SDR should review this list regularly and fill it in with the required information to ensure the quality of the meetings.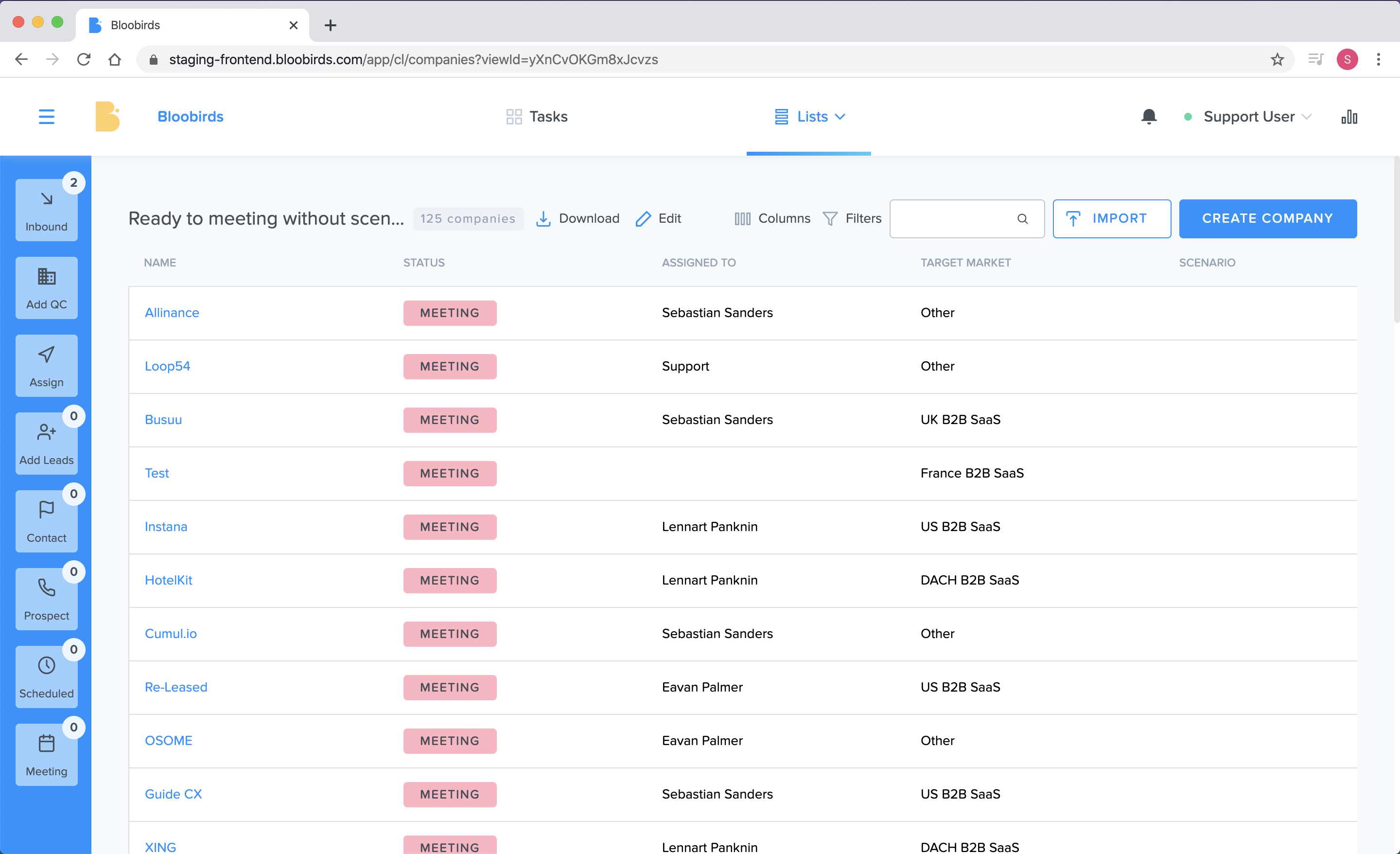 QCs on prospection without attempts this week
Shows the QCs which last attempt took place this week, you may want to find out why no action has taken place since then.
This helps you spot companies that were missed when following the cadence or should change their status into nurturing or discarded.
This list can be customised with the filters, and is useful for both SDRs and Managers to track performance.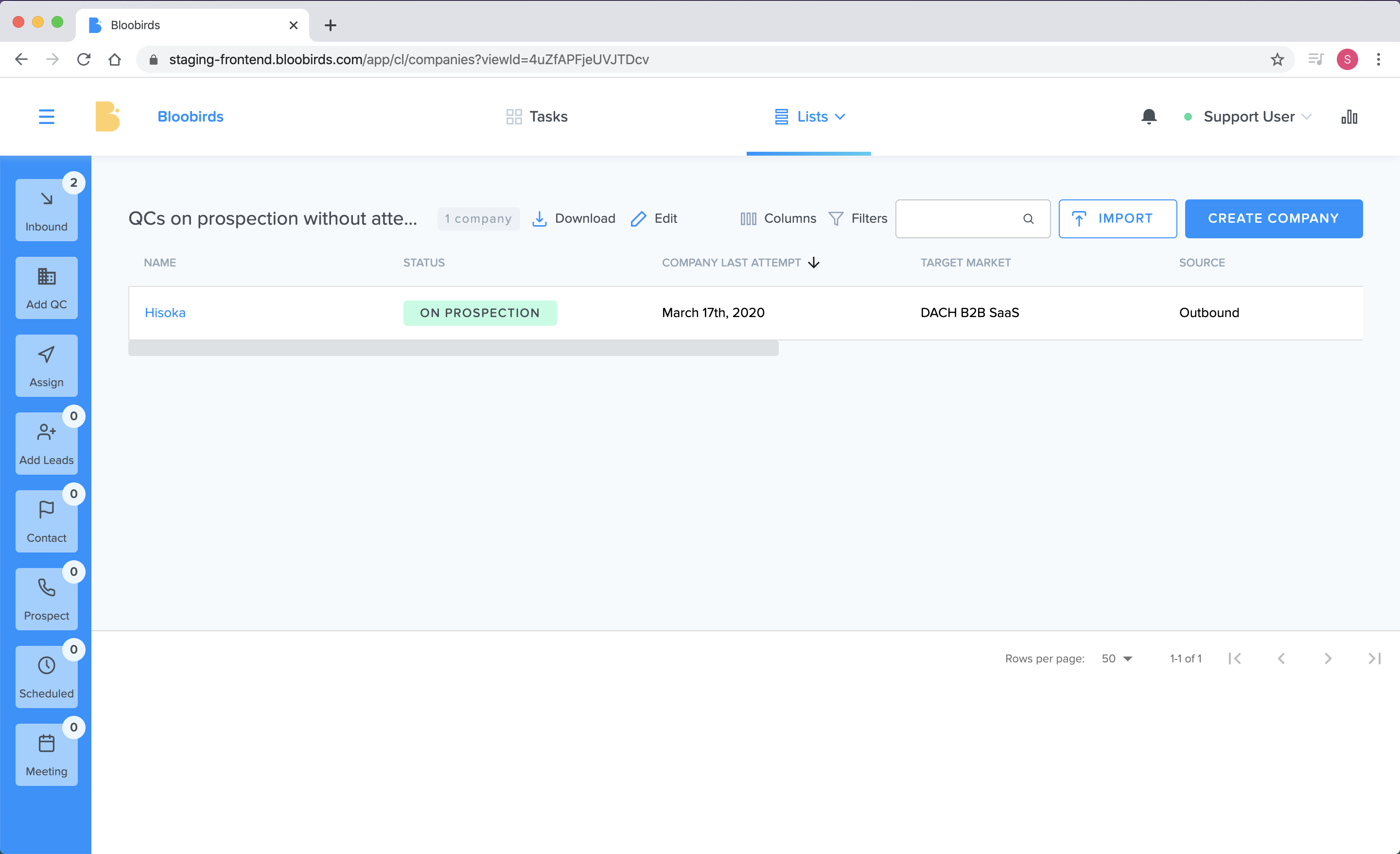 These are the lists designed for control.
My tasks for this week
Here you can keep track of the tasks that you have programmed for this week. Use it as an agenda.
My QCs
This is a list companies have been assigned to you, as an SDR.
Results
The objective of these lists is to help you achieve your objectives and check how you are performing against them.
As an SDR or a manager, you may want to check these lists and take action when necessary to spot and correct any downward trend.
The lists can also be customised to your company's specific KPIs.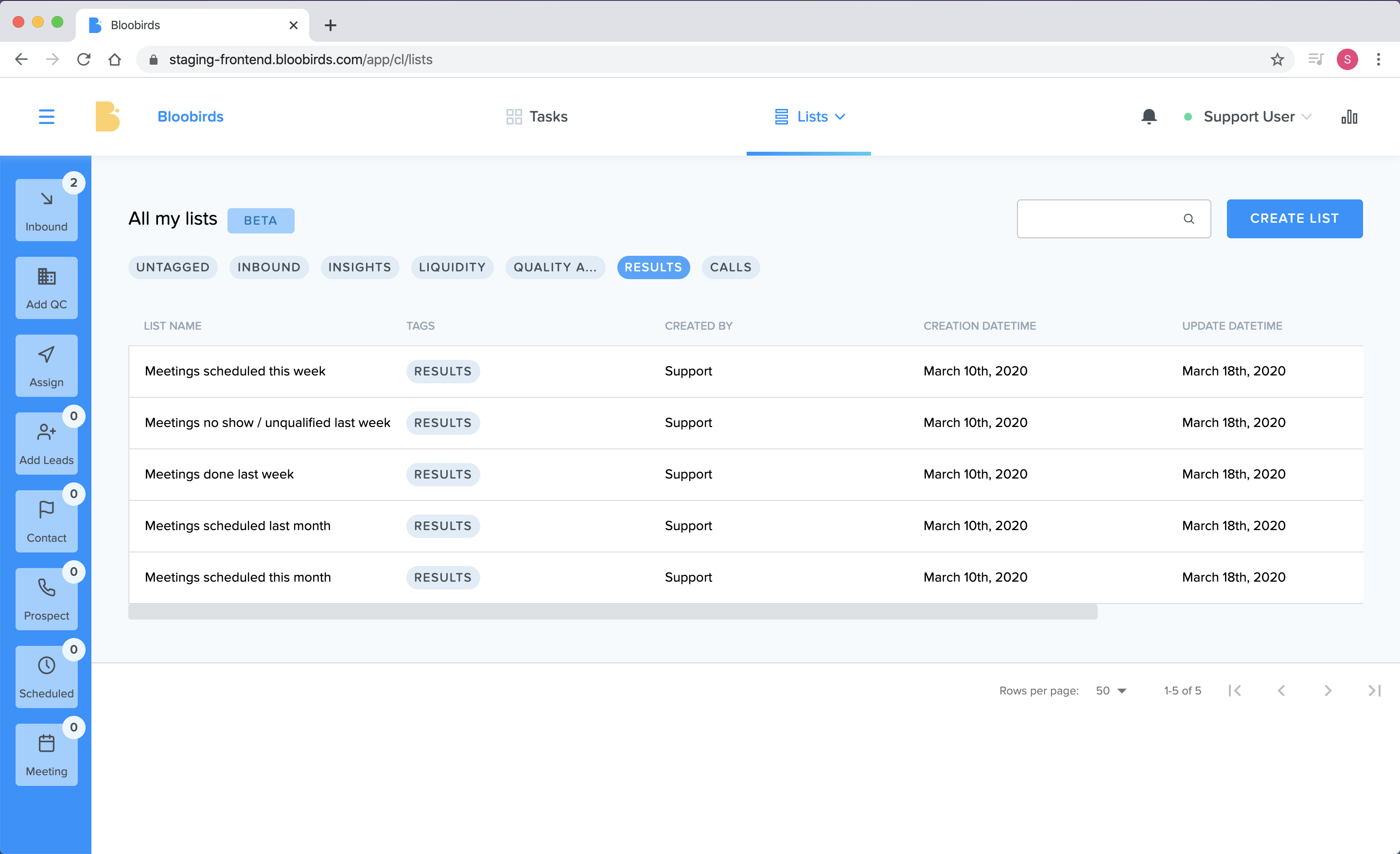 As a recommendation we have created the following lists:
Meetings scheduled this week
Here you will find all companies for which you have scheduled a meeting this week.
Meetings no show / unqualified last week
Shows the companies that have dropped out from the sales pipeline this week.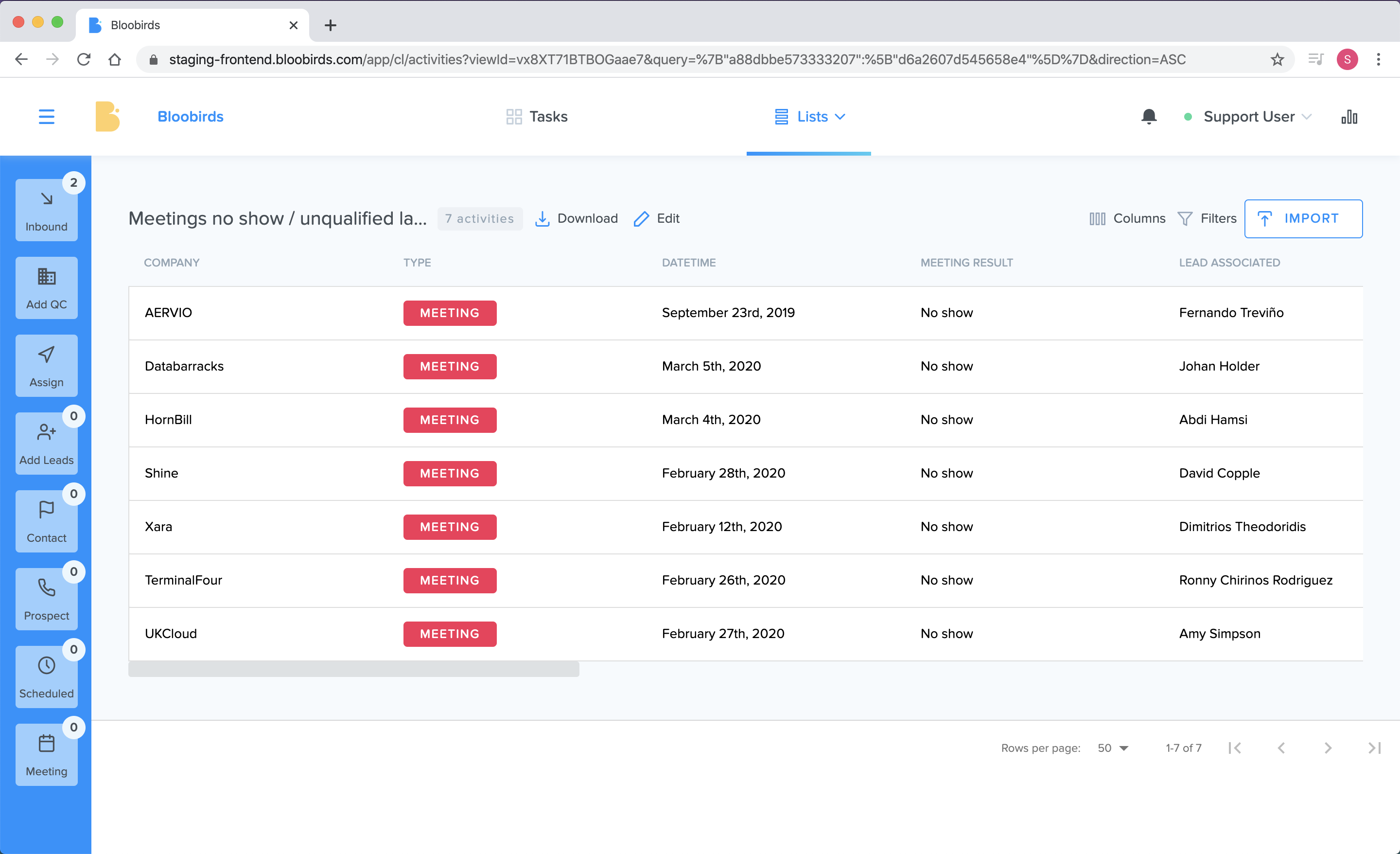 Other meetings lists
And to check on the progress of meetings over time, we suggest the lists:
Meetings done last week

Meetings scheduled last month

Meetings scheduled this month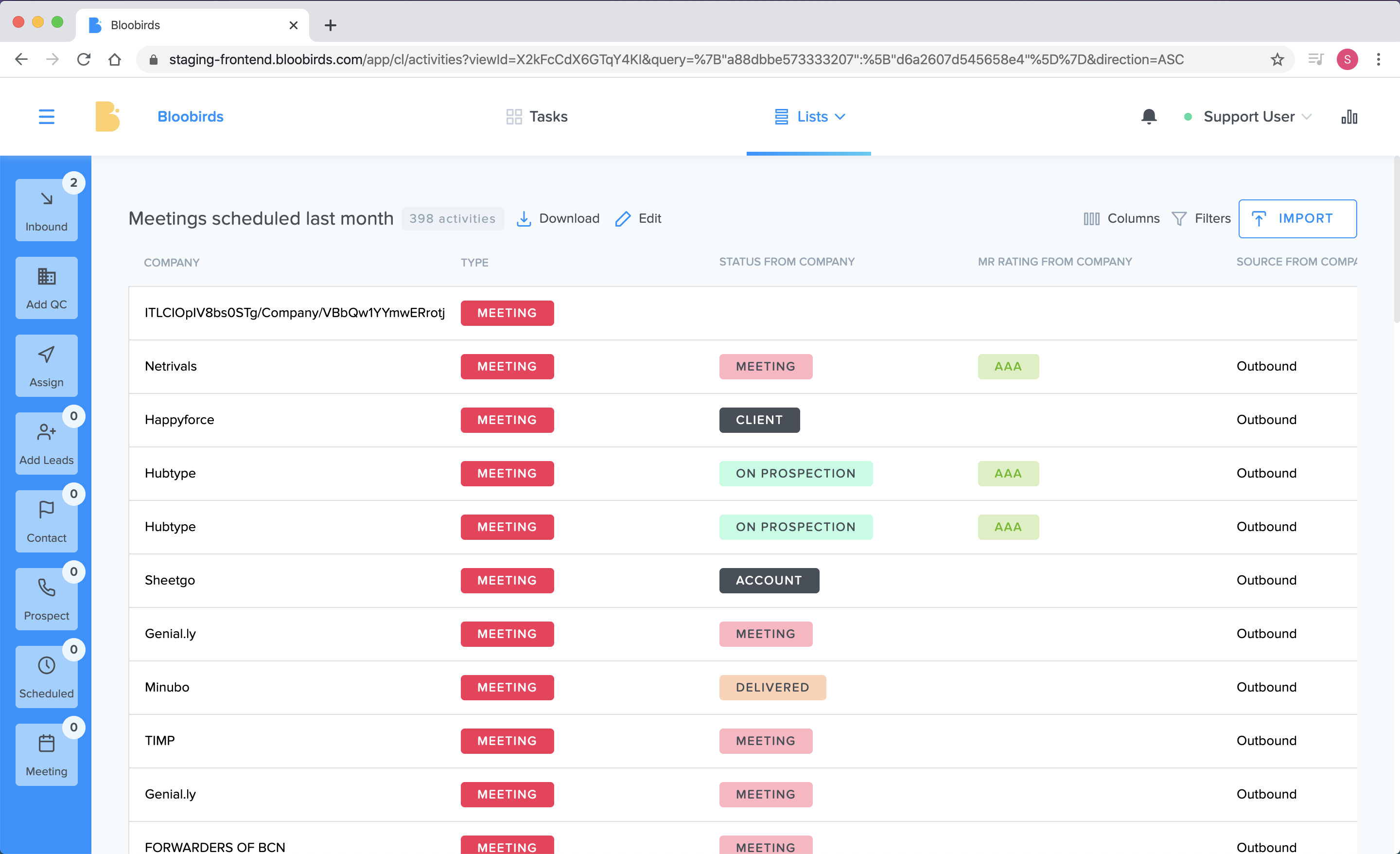 Calls
The objective of this tag is to give you visibility on your incoming calls.
Under the list Incoming calls this week you will be able to find all the calls that came in but have no lead or company registered on Bloobirds.
We suggest to return these calls as soon as possible, it may be a lead that waiting for you.